Electric floor heating systems are not complete without a thermostat! Check out nVent NUHEAT's modern line of thermostats. Learn more about nVent NUHEAT Signature, Home, and Element.
SIGNATURE 
nVent NUHEAT offers North America's first WiFi-enabled thermostat for floor heating systems. You have the ability to remotely control your floor heating system through an iOS and Android smartphone app – change your settings from anywhere you are.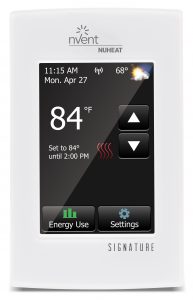 HOME  
The nVent NUHEAT HOME thermostat is a high resolution color touchscreen thermostat that allows easy control and programming of any electric floor heating system.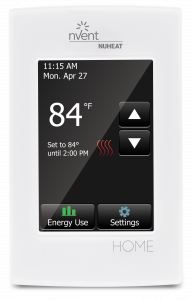 ELEMENT
The nVent NUHEAT Element is a non-programmable thermostat for simple "up" or "down" temperature controls of any electric floor heating system.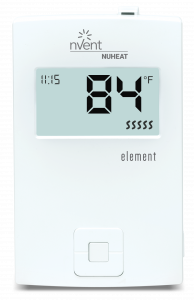 For more information, check out our Thermostats page.