Developments in areas such as communication, production engineering, and the automotive industry are leading to the increasing use of highly sophisticated electronics with increased data traffic and higher computing power. The intensified use of highly complex electronics results in a growing number of test and measurement tasks. To fulfill these tasks not only more powerful systems are required, but also better modularity of test and measurement equipment to minimize development outlay. Choosing a modular and flexibly adaptable product platform for a customized mechanical system is just as crucial for reducing development time and scaling your test application, as selecting the right system architecture.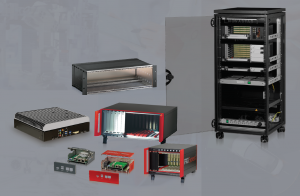 Depending on the application of the test and measurement system, for example, in production engineering, in the automotive field, or aeronautical engineering, there are different requirements for modularity, durability, and EMC characteristics. A modular system architecture also demands a modular mechanical platform to allow the test and measurement application to fulfill several tasks for testing and measuring. It is, therefore, beneficial to also build on a modular mechanical platform based on a broad product portfolio of enclosures, subracks, and cabinets that are established in the market and satisfy these requirements.
The modular design of PXI Express systems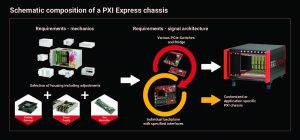 A PXI Express system divides into two areas. One area includes the plug-in cards (processor cards, measurement cards, I/O cards), which selects a wide variety of combinations specific to the application. These represent the actual target functions of the system. The second area consists of the PXI Express chassis. It provides the infrastructure required for operating the plug-in cards such as the mechanical enclosure, backplane, cooling system, power supply. Manufacturers of test devices prefer enclosure solutions, which builds modularly upon the proven chassis platform and only requires minor adaptations for various areas of use. The flexibility of the system architecture also results from having a modular mechanical platform based on a broad range of standard products. Enclosure solutions should adapt to the system architecture quickly and easily, to reduces costs, lead time, and risk.
The modular design of COM solutions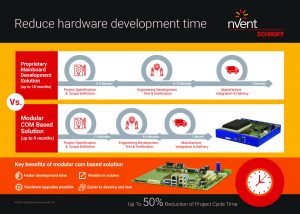 Many designers find themselves choosing between a modular building block approach that may fit their application imperfectly versus a custom mainboard development that may be expensive and time-consuming to bring to market. Particularly in situations where the application demands low to medium volume deployment, a modular, single-board computer such as Computer on Module based approach has substantial advantages in development time and costs. In addition to a modular COM solution, the enclosures itself has to be appropriate for the modular design of the COM module in conjunction with the carrier. An enclosure platform with a parametric model can easily be adapted to any space-saving height, width, and depth desired for the COM module and carrier with its interfaces. For example, with an interlocking tabbed design, stability and integrated EMC protection can be adopted to versatile applications, such as installation in a test device or a control cabinet, mounting directly on a machine or as a portable device. The cooling solution, as well as the power option also varies, depending on the environment.
The modular design of VPX Systems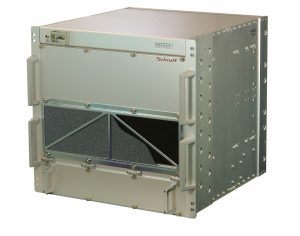 Harsh environments place special requirements on mechanical systems for shock and vibration loads. In this case, users rely on a corresponding system platform with a broad range of standard components for modular subracks that satisfy the increased load requirements. It is beneficial, for example, when you can put together conventional systems with shock and vibration resistance of 2 to 40 g. Modifications for EMC, cutouts, paint, and printing, as well as surface treatment, should also be flexibly implementable for these subracks. In regards to cooling, the VPX specification offers a wide variety of cooling options ranging from convection and conduction to liquid cooling. Redundancy and hardware management are options that can be implemented to realize a fail-safe system for the most extreme conditions.
To learn more about modular electronics packaging for test and measurement applications, download our free white paper here!