With the Varistar LHX+ air-water heat exchanger, nVent SCHROFF has developed a market-ready, standardized modular cooling system for technologically advanced test and measurement applications. It was developed for test and measurement applications that require a fully sealed electronics cabinet. The air-water heat exchanger makes scalable cooling performance of up to 10 kW available.
Avoiding temperature fluctuations in electronics cabinets is a basic requirement for highly complex physical applications. When it comes to air conditioning for the electronics cabinets used by particle accelerator control systems, nothing less than perfection will do – because the operating conditions are challenging. Normally, the tunnels that surround a particle accelerator's kilometer-long pipes are not air-conditioned. The insects and dust that enter the tunnel are an additional threat to the integrity of the electronics. The electronics cabinet series from nVent SCHROFF has protection class IP53 and was designed precisely for such environments.
Increasing electronics density – rising demand for cooling
The LHX3, the predecessor cooling system from nVent SCHROFF, featured a cooling performance of up to 3 kW. The model series delivered excellent cooling performance. Stefan Djuranec, Product Manager Cooling at nVent SCHROFF, was present at the test run of a Swiss particle accelerator. As he reported: "The installed systems for voltage and current measurement react very sensitively to temperature fluctuations. Before a test series on a particle accelerator begins, the entire electronics system is calibrated. Later during the test, temperature fluctuations must be avoided to eliminate even the smallest voltage fluctuations. We successfully kept the temperature constant up to 0.05 K during a complete test series. We are proud of our achievement!"
The increasing demands on the computing power of such systems go hand in hand with a rising demand for cooling performance. To satisfy the demand, nVent SCHROFF has developed the LHX+ cooling solution. This model series is the culmination of all the experience the climate management experts have acquired in the past. Users benefit from the highest level of temperature precision and a modular, standardized cooling performance of up to 10 kW.
Cooling concept: customized via plug-and-play operation
There is worldwide demand for standard components with a wide range of functions for control units that are regularly maintained or supplemented. These standard cabinets must also fit in places where the available installation space is limited. The LHX+ requires a base area of only 600 x 800 mm and the series' climate management is scalable. The system temperature control precision is +/- 0.1 °C peak to peak in an ambient temperature range of 5 to 70 °C and relative humidity between 5 and 95%. An airflow volume of 1000 to 1800 m3/h is attained.
If necessary, its cooling performance can be increased in live operation without having to adjust the infrastructure inside the cabinet. To do this, a simple fan with 5 kW cooling capacity can be hot-swapped with a dual fan unit with a cooling performance of 10 kW. The heat exchanger does not have to be replaced when the fan is upgraded like this, which reduces the required installation work to a minimum.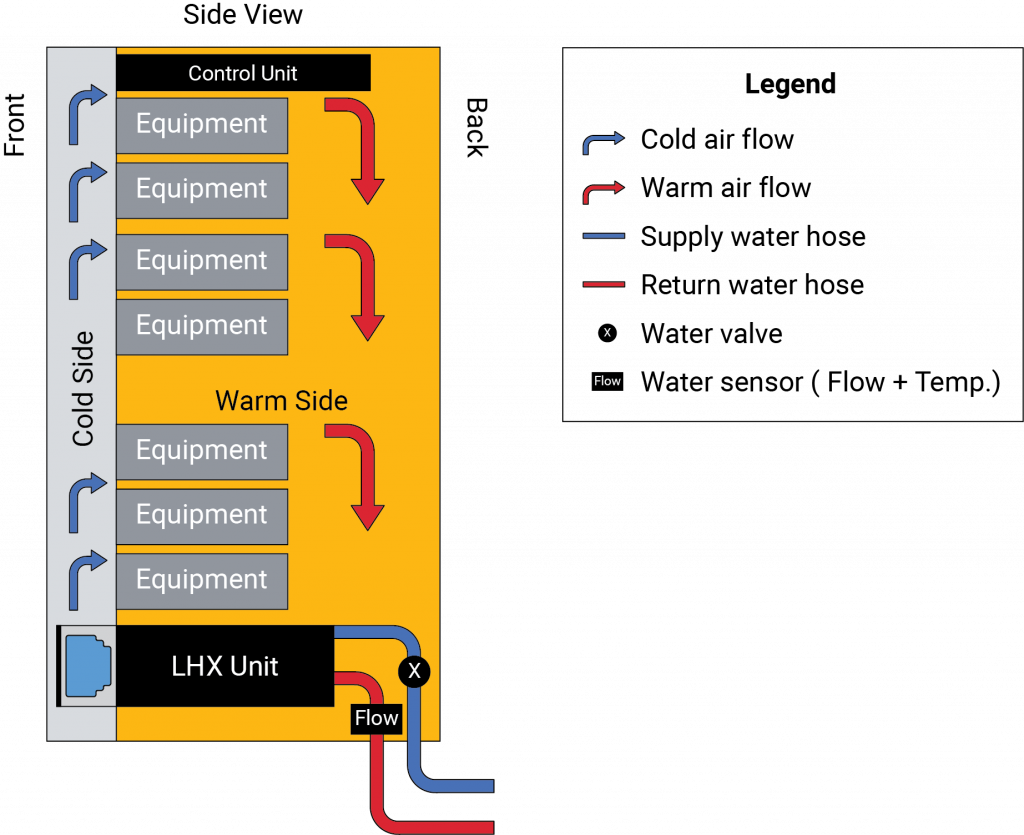 Control unit: 19″ high tech
The high-precision temperature control of the LHX+ is achieved by a control unit and also with a modular design, with the option of remote access and control. The EtherCAT, EtherNet/IP, Modbus, Profibus, NTP/PTP and Hard Interlock I/O protocols are available for remote applications. A web server runs network configuration and synchronization.
The temperature can be controlled via a terminal with a display and keypad mounted on the door or remotely via Ethernet access and a web interface. Regardless of whether the required controller adjustments are small or large, the electronics cabinet can remain closed.
Inside the electronics cabinet, there are four air temperature sensors that monitor the inside temperature. A differential pressure sensor monitors and controls the installed cooling unit's fan speed. Optionally, the throughput and flow temperature of the coolant can also be recorded. This independent control unit is also a separate 19″ module that can be closed from the outside and requires little installation work.
Outlook: great market potential
"Interdisciplinary research and technology transfer are the drivers of the technological solutions of the future. In places where a wide range of sensors continuously record gigantic quantities of data that must subsequently be processed and visualized, premium standard products that can be seamlessly integrated into existing installations are in demand," explained Pradipto Bhowmick, Global Strategic Product Manager at nVent SCHROFF. With the LHX+, nVent SCHROFF has developed a climate management system that can be used in any application that requires the highest degree of measurement precision. This applies to large-scale research facilities, such as those in the medical technology and pharmaceutical industries, as well as to test benches for engine development. The recent future study "Progressive Mess- und Prüftechnik 2030" (Progressive Measurement and Testing Technology 2030) from VDMA Future Business analyzes which trends and disruptions will impact the ability to provide application-oriented premium quality in mechanical and systems engineering today and in the future. It reveals that: "[…] Digitalization and new measurement methods from biology and quantum technology are key factors." This opens up a large market for cooling technology for highly developed physical applications and measurement procedures.
Learn more about the LHX+ here.