nVent NUHEAT electric radiant heating systems are ideal for Perimeter Heat applications. nVent NUHEAT systems offer an invisible alternative to baseboard heaters for heat loss replacement on curtain walls.
Benefits of Perimeter Heating with NUHEAT include:
1. HEAT LOSS REPLACEMENT
Adding perimeter heat ensures more heat is retained in the room and around a window.
2. CONTROL WINDOW CONDENSATION
nVent NUHEAT Mats can be installed along the curtain wall, beneath the finished floor, to control window condensation and ensure amazing views year-round.
3. REPLACE BASEBOARD HEATERS
Don't allow unsightly baseboard heaters to clutter up your views. nVent NUHEAT systems result in a clean look while providing more heat output and improved efficiency.
4. MAINTENANCE-FREE
nVent NUHEAT systems do not require ductwork, boilers, valves, or any other additional equipment. nVent NUHEAT Mats are covered by a 25-year warranty and require zero maintenance.
5. SILENT & INVISIBLE
NUHEAT Mats are installed beneath the finished floor, offering a silent and invisible perimeter heat solution.
Take a look at the pictures below – we demonstrate the use of nVent NUHEAT electric radiant heating systems for Perimeter Heat applications vs. the use of just baseboards.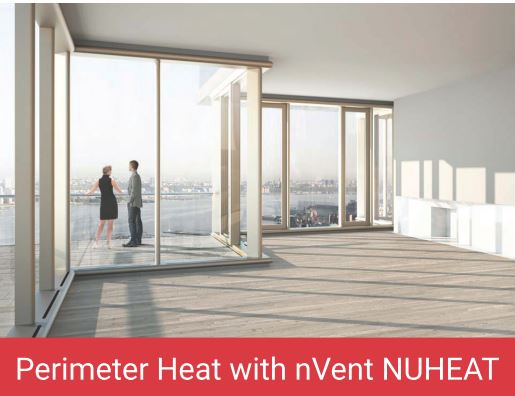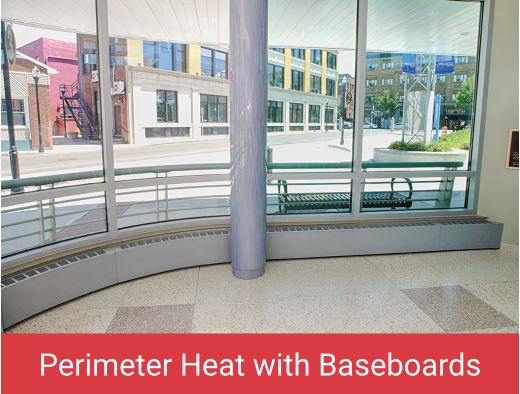 For more information about perimeter heat for your next project, talk to a nVent NUHEAT expert today by emailing us at Nuheat.InsideSales@nvent.com or visit nuheat.com.