HARRISON, NY JANUARY 21, 2021
URC, a global leader in smart home automation and control for residential and commercial applications, and nVent NUHEAT, a leader in Electric Floor Heating Systems, announced today a new phase of collaboration in smart home technology.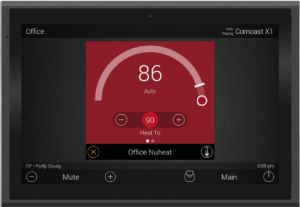 URC's NUHEAT Two-Way Module Control Screen
Starting immediately, URC and nVent NUHEAT have created the first integration between Total Control®, URC's award-winning residential and commercial automation platform, and nVent NUHEAT's powerful Signature Thermostat system. nVent NUHEAT's Wi-Fi enabled thermostat can now be controlled via URC's one-touch, voice control and mobile app.
With URC's use of geofencing, homeowners can automate several actions that offer peace-of-mind. URC's Total Control and nVent NUHEAT's Signature Thermostat can be integrated to automatically change as the homeowner nears the property. Also, notifications can be triggered if the thermostat returns an error unexpectedly.
Key benefits include:
• Control from Anywhere – Control climate settings from any room with Total Control and URC controllers and mobile app
• Simplified Home Automation/Programming – Secure the entire home with a tap or voice command by creating home automation Scenes. Example Scenes include a "Good Morning" or "Goodnight" scenes that adjust climate settings in conjunction with lighting, audio/video and other connected home devices.
• Voice/Hands-free Control – URC's voice commands through Alexa or Google Home feature enables floor heating control as well as all other smart home features.
• Access to Weather Information – Be aware of weather trends that affect your home's climate and energy consumption.
• Access to Energy Consumption – Understand your energy usage and ways to reduce costs or make your family more comfortable.
"This integration with nVent NUHEAT represents a significant step for URC and our valued dealers" stated Lars Granoe, URC's VP Product Development. "We can deliver simple, fast integration for our dealers and peace-of-mind for homeowners by seamlessly controlling climate devices and leveraging our geofencing and notification technology."

"The nVent NUHEAT Signature Thermostat is the most connected floor heating thermostat available. We are pleased to partner with URC to offer home owners even more options for integrating nVent NUHEAT Floor Heating Systems into their connected home", says Wally Lo, Product Manager for nVent NUHEAT.
ABOUT URC
Headquartered in Harrison NY USA, URC is a global leader in smart home automation and control solutions. URC technology is respected for unsurpassed performance and reliability with over 100 million remote controls sold in the past 10 years alone. URC control systems include Total Control®, MX HomePro® and Complete Control®. Innovative URC user interfaces include tabletop controllers, in-wall touchscreens, handheld remotes, keypads and mobile apps – plus voice control integration with Amazon Alexa and Google Assistant. URC systems are custom designed, installed and maintained by a network of URC trained systems integration professionals. Its award-winning technical support and training make URC the best choice for home automation.
Corporate Contact
Ron Pence
Marketing Lead, URC
rpence@urc-automation.com
ABOUT NVENT NUHEAT
Headquartered in Richmond, BC, Canada with manufacturing operations in Redwood City, CA, USA, nVent NUHEAT is a leading North American floor heating brand. With over 30 years of manufacturing experience, nVent NUHEAT provides an array of electric floor heating solutions fit for any floor heating project. nVent NUHEAT specializes in the manufacturing of pre-built standard and custom mats, cable and uncoupling membrane, and self-adhesive mesh. nVent NUHEAT floor heating systems work with industry leading thermostats, including the nVent NUHEAT Signature thermostat, North America's first WiFi and smart home integrated thermostat.
Corporate Contact
Randeep Dosanjh
Marketing Communications Manager, North America
Randeep.dosanjh@nVent.com
LINKS
URC: www.urc-automation.com
nVent NUHEAT: www.nuheat.com