nVent NUHEAT Custom Mats are the premium, made-to-measure solution for radiant floor heat with perfect coverage.
nVent NUHEAT Custom Mats deliver ideal results for any space, no matter how complex the shape. Custom Mats also offer the quickest and easiest installation, ensuring minimum labor costs. Like any custom-made product, some up-front work is required, but this article will explain how to get the optimum result, whether it's a 50-story luxury tower or a single master bathroom.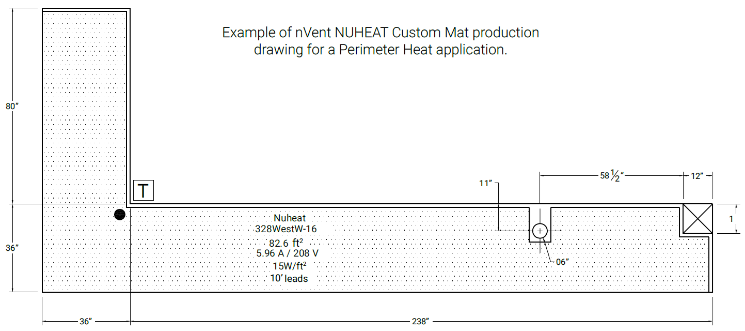 Quoting Your Project
Quoting is the first step when qualifying or bidding a job and the quoting process can help to determine which areas end up getting floor heat. The nVent NUHEAT design team can work with specifiers to design the ideal system for any project. Our process of specifier consultation ensures the spec is set appropriately, preventing inferior products from ending up in your project.
Quotes can be made using plans or as-built measurements.
If using plans for quotes, ensure the most recent version is submitted and clearly indicate areas that are being considered for floor heat. Quotes using plans will be accurate for budget purposes as long the as-built measurements don't deviate significantly.
Measuring for Custom Mats
As-built measurements are required for Custom Mat production. Your project is ready to be measured once walls are framed, plumbing and electrical are roughed-in, fixture details are known, and thermostat location(s) have been decided.
Custom Mats can be delivered in as little as one week after ordering so there is no need to measure early, which can result in errors.
The nVent NUHEAT multi-unit projects team is here to help your project go smoothly. Area Sales Managers can train installers and the NUHEAT design team is available to work directly clients on the job site.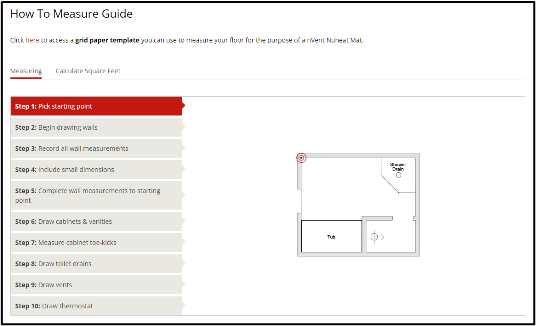 Detailed measuring instructions can be found on the nVent NUHEAT website. Other things to make note of include…
Make wall-to-wall measurements, whether walls are finished or unfinished. Do not attempt to estimate the thickness of finished walls, trim, etc. The NUHEAT designer will add any offsets required. Doing so during measuring can result in cold spots.
Make large, clear sketches, noting all dimensions, and orienting all dimensions in the same direction. Dimensions need to be accurate to ¼" but a scale drawing is not required.
If certain design elements are difficult to draw, submitting photos with drawings can speed up the design process.
If a drawing is not production ready after submission, clients can call a NUHEAT designer with their quote number from the job site and get assistance with the measurements.
In multi-unit projects, multiple floors can usually be measured simultaneously. Typical designs can be measured once each. A quick field verification can be performed to ensure the as-built dimensions conform to the typical design using overall width/depth of the room and the location of key features, plumbing, and electrical connections.
Each quote will include a thermostat for each area being heated. It is possible to combine areas; however, more zones almost always deliver a better user experience.
Indicate thermostat locations on plans or measurements to ensure correct cold lead length.
If the power supply is already defined, indicate the voltage and how much power is available. If the power supply is yet to be defined, the design team can assist with planning.
Standard power density is 12 W/ft². 15 W/ft² Custom Mats can be made upon request.
nVent NUHEAT quotes include one Install Pro Alarm installation fault detector per room by default. Proper installation requires one Install Pro Alarm for each Mat so large rooms with multiple Mats will be best served with one Install Pro Alarm per Mat.
With help from the nVent NUHEAT Projects Team, it's easy to deliver ultimate comfort and luxury at budget-friendly costs! Click here to get in touch with one of our experts and deliver comfort, desirability, efficiency, value, sustainability, and improved profits with nVent NUHEAT!