nVent NUHEAT Custom Mats are custom-manufactured to fit your exact room/area dimensions.
nVent NUHEAT Custom Mats are only 1/8" thick and eliminates the need to configure the heating wires during installation. This also helps keep your floor height from increasing as well. Once the room/area dimensions are submitted, nVent NUHEAT Custom Mats are manufactured in only three days. The nVent NUHEAT Custom Mat will match the exact dimensions provided by the customer even for the most complex room/area shapes. Because the heating wire is embedded in the nVent NUHEAT Custom Mat and does not need to be configured during installation, the heat coverage is guaranteed to be consistent throughout the desired heating area.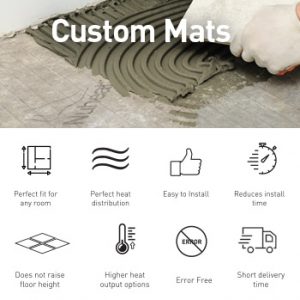 Learn more about nVent NUHEAT Custom Mats here.