Radiant heat is a comfortable, efficient, and safe way to warm any space. Now more than ever, home builders and multi-unit developers are taking advantage of the uniform, silent, and invisible way to deploy radiant heat indoors: electric radiant floor heating. In this post, we examine what makes nVent NUHEAT systems such an attractive alternative to baseboards and radiators.
Baseboards & Radiators
Whether they are used as a sole heat source, for perimeter heating, for heat loss replacement, or as supplemental heating in an otherwise under-heated space, baseboards and radiators have a number of inherent disadvantages, such as…
Overheating areas close to equipment, while failing to adequately heat other areas
Cluttering up the living space with unsightly equipment
Posing potential trip, fall, and burn hazards
Limiting furniture placement
If using hot water, they…

Require dedicated utility control space for boilers, pumps, manifolds, etc.
Require maintenance of all of the equipment mentioned above
Pose flood damage risk
Produce greenhouse gasses and other pollutants if heated with fossil fuel
Are not conducive to renovation or refit with the space required for equipment and infrastructure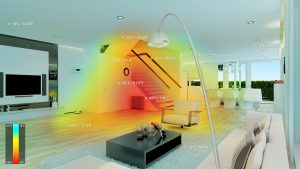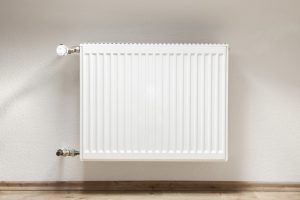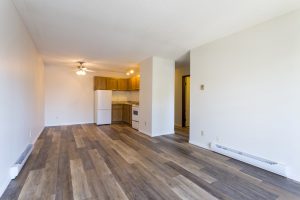 nVent NUHEAT systems have none of the drawbacks above and offer several other advantages, including the following:
nVent NUHEAT offers improved comfort because…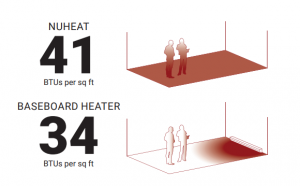 Baseboards are installed using a rule of thumb that each room should have 34 BTU/ft2 but nVent NUHEAT systems offer 12 W/ft2, equivalent to 41 BTU/ft2. nVent NUHEAT systems can also be configured for 15 W/ft2 (51 BTU/ft2).
nVent NUHEAT turns the entire floor into a source evenly distributed heat, concentrated where occupants spend their time (touching the floor)
nVent NUHEAT directly heats occupants and furniture through conduction
nVent NUHEAT enables improved comfort, even at lower ambient temperatures, due to the characteristics above
nVent NUHEAT offers improved efficiency because…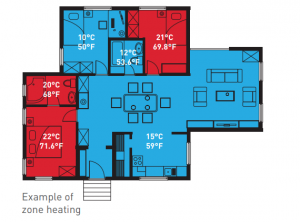 Direct electric heating is 100% efficient (all electricity used is turned into heat)
nVent NUHEAT is more easily zoneable, allowing occupants to heat only the areas in use
nVent NUHEAT is encased in a thermal mass (usually thinset or self-levelling compound), retaining the heat emitted by the system and continuing to release it after the system shuts off
nVent NUHEAT offers low cost of ownership because…
It is so efficient (see above)
It has lower parts and installation costs versus hot water systems
It is maintenance-free
It poses no risk of flood damage
It runs on electricity and is not subject to volatility and uncertainty surrounding fossil fuels
nVent NUHEAT is installed under the floor's surface, ensuring it…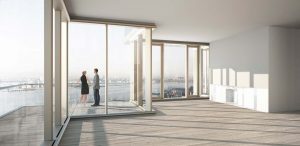 Is silent
Is invisible
Takes up no living space and does not limit furniture placement
Does not pose a trip and fall hazard
Does not pose a burn risk for children, drapes, or any other heat-sensitive items
nVent NUHEAT products work under many types of floor coverings, including…
Tile
Stone
Laminate
Engineered wood
Luxury vinyl flooring
nVent NUHEAT Custom Mats precisely match the heated area, ensuring…
Quick, easy, repeatable installation throughout a multi-unit development
Even heat in every unit with no cold or hot spots
Consistent quality of result, even with changing installers though the course of a project
Do you have questions about how nVent NUHEAT can add value to your next project? CLICK HERE to get in touch with an nVent NUHEAT multi-unit project expert and your questions answered!