Learn about nVent NUHEAT floor heating accessories – Mat Sense Pro, Thermostat Probe, Mat Repair Kit and Cable Repair Kit.
So often, the discussion about finding a solution in floor heating goes straight to products and entire systems but rarely does that discussion include the thought of accessories. In the floor heating industry, accessories are designed to help the entire operation run as smoothly and safely as possible.
With four state-of-the-art accessories available for floor heating purposes, nVent NUHEAT accessories help nVent NUHEAT products function at optimal performance. nVent NUHEAT's Mat Sense Pro, Thermostat Probe, Mat Repair Kit and Cable Repair Kit all integrate seamlessly into nVent NUHEAT products to keep the floor heating in your home or building running at peak levels. These accessories also act as a safety measure and ensure installation is done to nVent NUHEAT standards.
nVent NUHEAT Mat Sense Pro
The nVent NUHEAT Mat Sense Pro is an electrical fault indicator that monitors hot, neutral and ground wires simultaneously during nVent NUHEAT Mat or nVent NUHEAT Cable installation. Mat Sense Pro is included with each nVent NUHEAT floor heating system and has the ability to illuminate and sound an alarm if the system is damaged, helping to ensure a correct installation to nVent NUHEAT standards. Mat Sense Pro does not remove the need to test the continuity of the electrical radiant floor heating system before, during and after installation, but is easy to use. Simply connect the conductor wires and ground to the Mat Sense Pro and turn it on.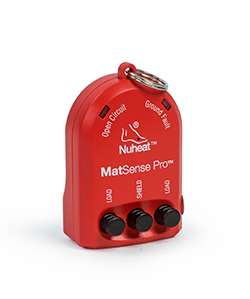 nVent NUHEAT Thermostat Probe
nVent NUHEAT Thermostat Probe can be used for all nVent NUHEAT products and is included in each nVent NUHEAT thermostat box. A Thermostat Probe is used to test the overall floor temperature and should be used at three points during the installation: when the floor heating system comes out of the box, when it is placed onto the floor and after the flooring is installed. By taping the probe on top of nVent NUHEAT Mats, the Thermostat Probe is able to test the overall floor temperature. It should be placed away from other heating and cooling sources to get an accurate reading. The Thermostat Probe will provide the Ohm Meter (OHM) readings, these readings are required to validate nVent NUHEAT's 25 Year Product Warranty and 25 Year Total Care Warranty. The three OHMs readings include black to white/red, white/red to cable ground, and black to cable ground.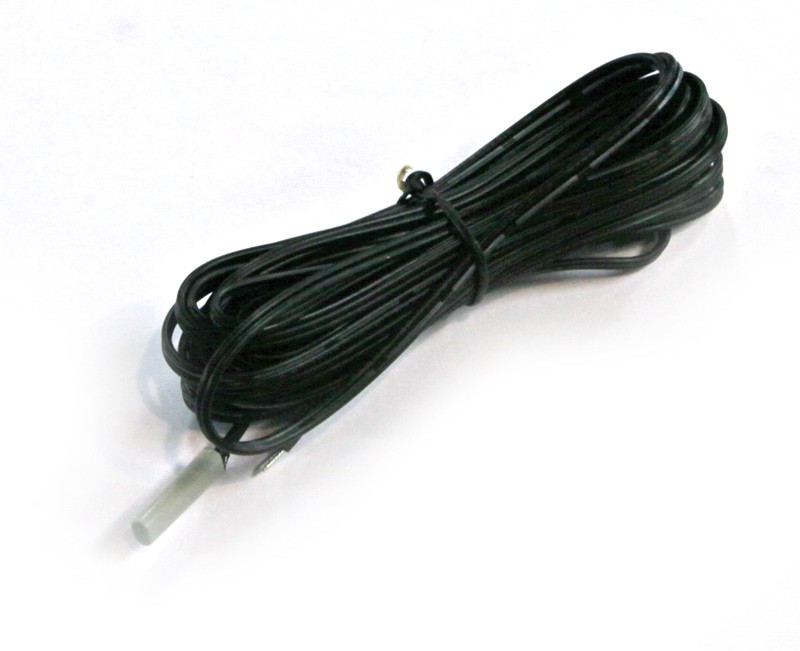 nVent NUHEAT Repair Kits – Cable & Mat
nVent NUHEAT also offers accessories for repairs. The nVent NUHEAT Mat Repair Kit and nVent NUHEAT Cable Repair Kit contain all the materials needed to fix nVent NUHEAT Mats or nVent NUHEAT Cable if they have been damaged during installation. This includes a complete set of simple instructions to complete the repair. Equipment is available to pinpoint locations of breaks if the flooring has already been installed. The Mat Repair Kit and Cable Repair Kit are both available through authorized nVent NUHEAT distributors and are covered under warranty.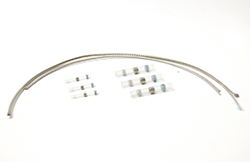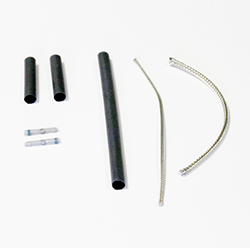 Learn more on how nVent NUHEAT accessories help heat your home here.