Reducing your electrical consumption not only reduces your electrical bills, but also helps the environment. We breakdown 3 energy saving tips for the installation and operation of electric floor heating systems:
1. CREATE SEPARATE HEATING ZONES
Create separate heating zones by installing a separate system controlled by a separate thermostat in each zone. By creating several small heating zones with your electric floor heating system, you can ensure energy is used to heat the floor only in the areas that you are occupying during different hours of the day. For example, install a heating system controlled by its own thermostat in the kitchen and have the a separate system installed in the living room and controlled by another thermostat. This would allow you to program the kitchen to only be heated between the hours of 4-6pm when you are typically preparing dinner and having only the living room heated from 6pm until bedtime.
2. INSTALL PROGRAMMABLE THERMOSTATS  
Programmable thermostats allow you to schedule the heating system to be on only when you are in the home. nVent NUHEAT programmable thermostats have four setpoints: Wake, Leave (home), Return (home), and Sleep. Having these four setpoints allows you to only heat the floor between the time when you wake up and the time you leave the house for work and between the time you get home and the time you go to bed. If you utilize heating zones in your installation, you can even set the living room Return (home) at later time than your kitchen's Return (home) time.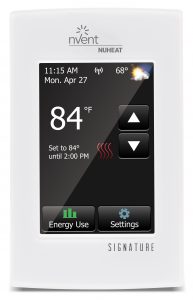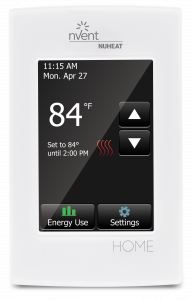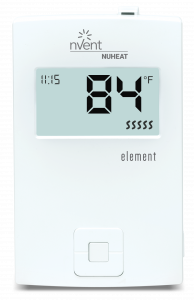 \
3.  INSTALL THERMAL INSULATION UNDERNEATH THE ELECTRIC FLOOR HEATING SYSTEM
When installing your nVent NUHEAT Floor Heating System directly on top of a concrete/cement slab (example: basement slab on grade), nVent NUHEAT recommends installing an insulation layer or a thermal barrier under your nVent NUHEAT Floor Heating System. This will ensure that your flooring surface will require less energy to reach the desired temperature. With an insulation layer, the cold slab below does not absorb the heat generated by the nVent NUHEAT system. There are many options for insulation barriers which include engineered membranes, natural cork, and concrete backer boards. Discuss with your contractor on which options are best for your specific application.