In this post, we delve into the key details that define warranty coverage for electric floor heating products. For home owners and multi-unit residential developers alike, warranty coverage is a critical consideration when choosing electric floor heating because the system should be maintenance-free and easily last the entire life of a home's interior.

nVent NUHEAT warranties are simple and comprehensive.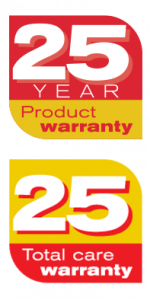 Heating products (Standard Mat, Custom Mat, Cable, Membrane, and Mesh) are covered by the 25-Year Product Warranty. This warranty is not prorated, cannot be voided by correctly executed repairs, and starts from the date of installation. Thermostats are covered by a 3-year warranty, the longest in North America for electric floor heating controls.
When installed by an nVent NUHEAT Certified PRO, NUHEAT products also qualify for the 25-Year Total Care Warranty, which adds coverage for…
• Floor heating repair/re-installation
• Floor covering products
• Floor covering installation (labor)
To qualify for nVent NUHEAT Warranties, simply complete the online warranty registration form within 30 days of installation, perform simple tests that require a standard multi-meter, and keep copies of test reports, invoices, and installation design records.
Many competing warranties are complicated by design, limiting the actual coverage and seeking to limit your choice of complimentary building materials. Examples include…
Warranty start dates: Some competing warranties start on the date purchase or the date of manufacture. Off-the shelf products can sit in a distribution warehouse for a long time after manufacturing. For multi-unit projects, the purchase date can be months or even years prior to the installation. These factors can greatly reduce the effective coverage period.
Lifetime warranty: "Lifetime" intuitively sounds like a long time, but beware! The fine print in a lifetime warranty often results in shorter-than-expected coverage. Commonly, "lifetime" is defined as the period the original installation remains unchanged, meaning these normal events can void the warranty…
• Wear and tear on the flooring
• Re-sealing or repairing grout
• Repairing worn or damaged flooring
• Repairing the floor heating system
System warranty: Some manufacturers offer warranties for a "system" of products, but not for the individual products themselves. These systems often require the use of specific non-heat-related products such as underlayments, mortars, and other flooring materials. They can also have very specific and complicated installation and testing requirements, making it easy to void the warranty before installation is completed. Some system warranties are embedded within other system warranties (shower system, inside the waterproofing system, inside the heating system, etc.), making qualification and submitting a warranty claim exceedingly complicated.
In a bizarre twist, certain heating system warranties don't include the heating product itself, meaning the "lifetime heating system warranty" offers zero coverage for a defective heating cable!
Prorated warranties: A prorated warranty is one where the liability equals the original value of the purchase multiplied by the percentage of warranty remaining. For example, if the purchase was $10,000, 10 years have passed, and the warranty period is 20 years, the manufacturer will only cover up to $5,000.
Ways to void competing warranties: Some warranties can be voided by activities that many homeowners would consider maintenance. None of these events would void the NUHEAT warranties but they will for many competitors…
• Non-completion of complicated test procedures. Many electric floor heating providers require megohmmeter testing to achieve warranty coverage, a potentially dangerous test that requires expensive, specialized equipment.
• Failing to submit documentation or claims in a within a short time window. Certain manufacturers only allow 14 days and require submissions to be submitted by mail.
• Repairs to the heating system itself. Most repairs to electric floor heating systems occur during installation. It's not uncommon for an installer could nick a wire with a trowel, necessitating an immediate repair, and many manufacturers will not warranty a repaired system. Worse yet, if the installer doesn't inform the specifier or homeowner, they may not be aware they no longer have warranty coverage.
• Certain manufacturer's state that any change to the flooring assembly voids the warranty. In this case, wear and tear on the flooring, re-sealing or repairing grout, and repairs to the flooring or heating system could prematurely end coverage.
CLICK HERE to get in touch with an nVent NUHEAT multi-unit project expert and get your specific warranty questions answered!
To learn more about nVent NUHEAT Warranties, visit http://www.nuheat.com/warranty/overview.