Radiant heat is a comfortable, efficient, and safe way to warm any space. Now more than ever, home builders and multi-unit developers are taking advantage of the uniform, silent, and invisible way to deploy radiant heat indoors: electric radiant floor heating. In this post, we examine what makes nVent NUHEAT systems such an attractive alternative to hydronic radiant heating.
Hydronic Electric Heating
Hydronic systems can be used for radiators or floor heating. Hydronic radiators offer the same benefits and drawbacks as other radiator systems discussed in our previous post, with the added complication of hydronic systems.
Hydronic floor heating systems utilize a series of pipes embedded in the subfloor of the home. The pipes are typically 4"- 6" below the flooring surface and connected to a manifold system, a gas or electric boiler, one or more pumps, and a series of valves and controls. Water is heated by the boiler and pumped throughout the system. The water in the pipes heats the subfloor, which transfers the heat throughout the heated areas.
Hydronic floor heating offers some of the same benefits of electric radiant floor heating but it also has a few inherent disadvantages, such as…
High installed cost
Adds significant height to floors so not suitable for renovation and may not be suitable for certain rooms, depending on several factors
Requires significant additional utility space to house the boiler, pump, manifold, and control equipment
Complexity of the system
o Pipes
o Boilers
o Manifolds
o Pumps
Maintenance required for all of the above, particularly if shut down seasonally
Leaking equipment and pipes poses flood risk
Takes hours to heat up
Less efficient than electric floor heating (not all energy consumed is converted into heat, pumps require additional energy)
Zoneable but due to the length of time required for warming, the zones do not offer "heat on demand", reducing the possible maximum efficiency of the system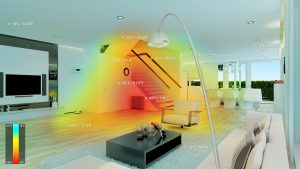 nVent NUHEAT systems have none of the drawbacks above and offer several other advantages, including the following:
nVent NUHEAT offers improved comfort because…
nVent NUHEAT systems can produce a higher temperature differential for comfort-focused spot heating, offering luxurious feeling on cold surfaces such as tile. This also makes a nVent NUHEAT system a good candidate to apply on top of an existing hydronic system, as explained in this post.
Heats up in minutes, enabling on-demand zone heating
Can be applied to any room in the home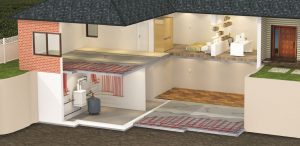 nVent NUHEAT offers improved energy efficiency because…
Heats up in minutes, enabling on-demand zone heating
Direct electric heating is 100% efficient (all energy consumed is turned into heat)
Reduced carbon footprint vs. a gas boiler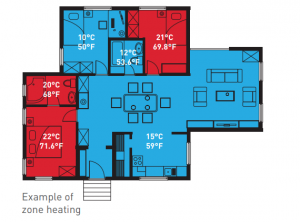 nVent NUHEAT offers low cost of ownership because…
Lower parts and installation costs
Minimizes floor height buildup (nVent NUHEAT Mats are only 1/8" thick), making the product suitable for renovations and reducing the complexity of installation
Requires no additional utility space
Maintenance-free
No risk of flood damage
It runs on electricity and is not subject to volatility and uncertainty surrounding fossil fuels
Highly efficient (see above)
nVent NUHEAT Custom Mats precisely match the heated area, ensuring…
Quick, easy, repeatable installation throughout a multi-unit development
Even heat in every unit with no cold or hot spots
Consistent quality of result, even with changing installers though the course of a project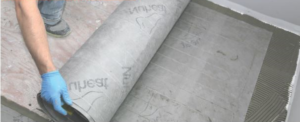 Do you have questions about how NUHEAT can add value to your next project? CLICK HERE to get in touch with an nVent NUHEAT multi-unit project expert and your questions answered!