We take a look at how to combine nVent NUHEAT floor heating systems with existing hydronic heating systems in the home. Owners of hydronic radiant heating systems are generally pleased with efficiency and temperature consistency but often find other aspects of the systems lacking. Hydronic systems can take a long time to come up to temperature and, while excellent at temperature maintenance, the higher temperature differential required for comfort-focused spot heating in a basement or bathroom can be difficult for a hydronic system to deliver. These shortcomings can be addressed by adding an nVent NUHEAT system above an existing hydronic installation.
Basements can feel cold and damp during shoulder seasons when the main hydronic system is not in operation. Also, even well-zoned hydronic systems can struggle to heat a cold basement during the colder winter months, particularly when the rest of the home does not require much heat for temperature maintenance. nVent NUHEAT systems provide on-demand zone heating, offering additional comfort that hydronic systems cannot. nVent NUHEAT systems comes up to temperature in a matter of minutes so home owners can activate or deactivate their supplemental heating as required.
This basement visualizes the combination of a hydronic heating system and a nVent NUHEAT floor heating system.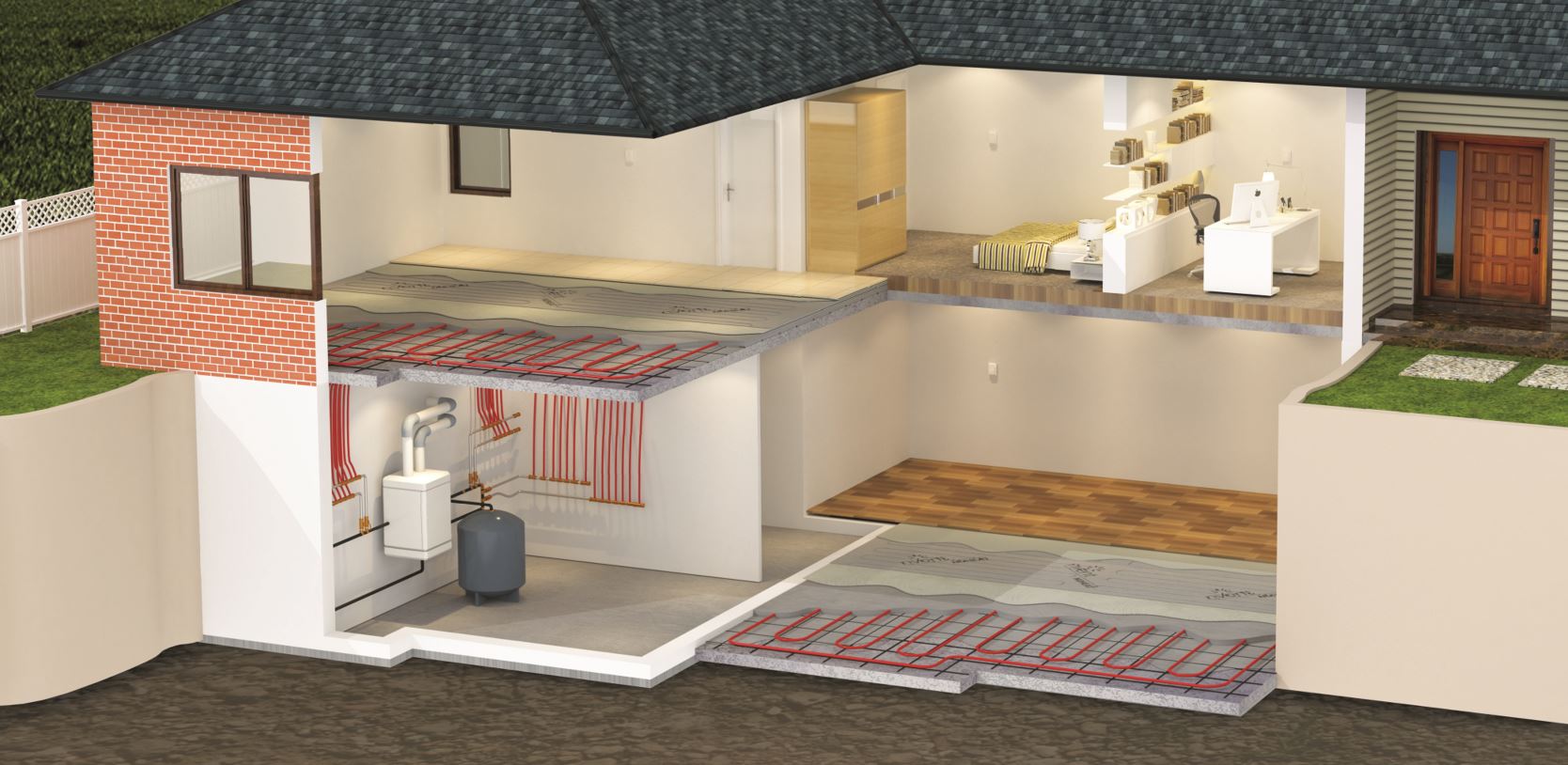 For bathrooms, many homeowners enjoy additional floor heat in the mornings and evenings, sometimes up to 10 or 15 degrees Fahrenheit above the desired ambient temperature. nVent NUHEAT systems offer this supplemental heat on-demand with several control options from simple, to programmable, or even remotely operable.
If your hydronic system leaves you cold during Spring and Fall months, if you're tired of hosting last minute gatherings when the basement isn't up to temperature, or if you're looking for additional comfort heating for your ensuite, nVent NUHEAT's solutions are inexpensive, energy efficient, easy to install, and feature all of the air quality benefits of hydronic radiant heating. Combining nVent NUHEAT floor heating systems with existing hydronic systems is possible.
Find a Certified PRO installer on Nuheat.com for your next project! Learn more about nVent NUHEAT and nVent NUHEAT products on our Learning Center.