The nVent ERICO Hammerlock Ground Clamp irreversible mechanical connection connects the grounding conductor to the ground rod. Installing the Hammerlock is as easy as swinging a hammer and requires no special tools or training. The Hammerlock can be installed three to five times faster than an acorn clamp. It provides a high-quality grounding connection that is easy to use and withstands 100% of the current carrying capacity of the conductor.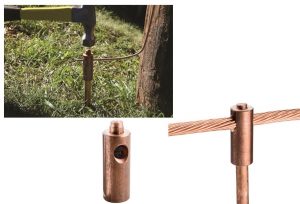 Fast and simple installation requires only a hammer
On most projects, labor is significantly more expensive than parts. Thus, it is important to be able to quickly and successfully install the product, saving time and money.  nVent ERICO Hammerlock Ground Clamps only require a hammer for proper installation, saving installer time, and eliminating the need for tool changes.
Provides a visual indication of completed connection
Hammerlock gives visual indication of a complete connection ensuring that the system is properly installed and reducing the need for rework. Seeing this visual connection enables you to feel safe and confident that the installation is done correctly.
No special training required
The simplified installation process of the Hammerlock Ground Clamp allows for installation without any special training. This simplifies the installation process by allowing available people on the jobsite to take on the task with minimal interruptions. If additional information is required about the specific circumstances of a project, the nVent ERICO applications engineering team is available to answer any questions.
Conclusion
nVent ERICO Hammerlock Ground Clamp is designed to simplify the installation process, saving time and money. Our clamps and connectors make sure your project stays on time and on budget. To learn more about the versatile options, click here.
Learn more about our full solution and product families by visiting our Grounding and Bonding Hub.