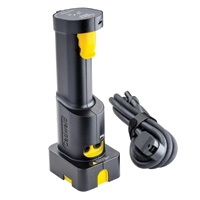 Our Cadweld exothermic welding process was patented in 1938 by professor Charles A. "Pops" Cadwell, and has been evolving and improving ever since. The work of the original 25-pound system can now be completed with Cadweld Plus and the handheld nVent ERICO Cadweld Plus Impulse Exothermic Welding Control Unit. This system is precision engineered to improve the installation experience by incorporating new features that focus on safety, power and ease of use.
Ongoing commitment to safety
The nVent ERICO product development team is continually improving products with safety in mind. The latest enhancements with control unit include a self-closing trigger guard that covers the ignition button, to prevent accidental ignition. On the top of the control unit, the nVent spark logo lights up, showing the ignition timing. The individual sparks light up one at a time, giving the user a visual display counting down to the exact time of Cadweld ignition. The LED lights are clearly visible, even when used outside on a sunny day.
Multiple power options
Additionally, the control unit has multiple power source options. You now have an option to clip a rechargeable battery into the bottom of the control unit through an adapter (which is sold separately). Impulse battery adapters accommodate rechargeable batteries from Milwaukee® or DEWALT®, allowing for approximately 1500 connections. If you prefer to use AA alkaline batteries, this will power approximately 600 connections. In order to track the life of the battery – whether using rechargeable or AA – the integrated indicator provides real-time updates.
Ease-of-Use
One of the most noticeable updates, is the power-tool style grip, making the control unit more ergonomic and easier to hold. In addition to heat-resistant cables, the newly redesigned alligator clip feature helps the installer know the strip from the Cadweld Plus cup is properly attached. Once you can see the strip through the viewing window, you can be sure the strip is properly inserted into the clip.
These features bring you the highest level of flexibility and ease of use of any of our ignition systems while continuing to keep you safe. Build your connection with the nVent ERICO Cadweld systems today.