In the U.S—with the exception of utility, telecommunications and rail industries—all AC power connected surge protective devices (SPDs) must be installed in accordance with National Electrical Code (NEC).
The 2017 revision of the NEC includes three articles that address SPD application and expand its use outside for emergency power systems:
Article 620.51(E), Surge Protection for Elevators, Dumbwaiters, Escalators, Moving Walks, Platform Lifts and Stairway Chairlifts
Article 645.18, Surge Protection for Critical Operations Data Systems
Article 670.6, Surge Protection for Industrial Machinery
The NEC requires that a SPD be "listed" or recognized for such purpose and approved by a Nationally Recognized Testing Laboratory (NRTL). One example of a NRTL listing service is Underwriters Laboratories Inc. (UL).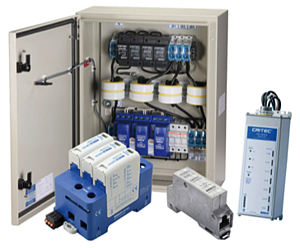 The broadening application of the NEC furthers the responsibility for NRTLs, like UL, to prioritize safety for facilities, electrical professionals and patrons. Read on to learn about the main UL standard that assesses SPD products for safety and provides basic ratings for determining applications.
The Purpose of UL 1449 4th Edition
The primary mission of UL is to "promote safe living and working environments" through "the production and use of products which are physically and environmentally safe."
To support this cause, UL developed UL 1449, the Standard for Surge Protective Devices, 4th Edition. Under the 4th Edition of this standard, a SPD undergoes an extensive test regimen to ensure it will not pose a safety hazard under normal operations or under potential failure modes, such as abnormal utility supply events and at the end of its service life.
UL 1449 Performance Assessments
UL 1449's main objective is about safety, not to be a performance standard. However, it does assign a Voltage Protection Rating (VPR), Nominal Current (In) rating and Type classification to each tested SPD. These ratings enable the performance of two SPDs to be compared.
Though performance is assessed, a shortcoming of UL 1449 is that it only requires products to remain operational on voltages up to 110% of nominal supply voltage. If voltage exceeds this, SPDs are allowed to safely but permanently fail.
To limit the possibility of frequent SPD replacements due to temporary overvoltage (TOV), customers are recommended to specify that the Maximum Continuous Operating Voltage (MCOV) be at least 125% of the nominal supply voltage. Further reliability can be gained by using products with CRITEC TD technology, which extends the MCOV to between 140% and 200% of the nominal supply voltage.
UL 1449 Surge Rating Testing
It is important to note that UL 1449 does not test that a SPD meet the manufacturer's claimed maximum surge rating. While this may appear a severe oversight on the part of the standard, it becomes more understandable when we consider that the primary concern of UL is safety and not performance.
The onus is left to the customer to seek evidence from the SPD manufacturer to support claimed surge ratings. Proof may be provided in the form of in-house test results or, preferably, independent third-party test certificates.
Search for UL Listed SPDs
UL offers a database for listed SPDs where a customer can search for devices generally or by specific products to find the ratings of an SPD. Access the SPD section of the UL iQ family of databases to explore SPDs by name, brand, performance and other factors.
To see the complete record of UL listed nVent ERICO SPDs, enter "ERICO International Corporation" in the "Company" search field.
SPD Types, as Defined by the UL 1449 4th Edition
SPD types designate the intended application location of the SPD, either upstream or downstream, of the main overcurrent protective device of the facility.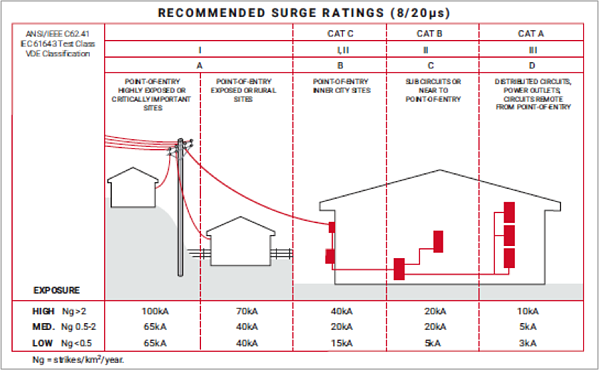 From UL 1449, 4th Edition, the SPD types included are:
Type 1 SPDs are permanently connected and intended for installation between the secondary of the service transformer and the line side of the service equipment overcurrent device, as well as the load side.
Type 2 SPDs are permanently connected and intended for installation on the load side of the service equipment overcurrent device, including SPDs located at the branch panel and molded case SPDs.
Type 3 SPDs are installed at the point of utilization, with a minimum conductor length of 30 feet (10 meters) from the electrical service panel to the point of utilization. Examples are cord connected, direct plug-in or receptacle type SPDs installed at the utilization equipment being protected. The distance (30 feet) is exclusive to the conductors provided with or used to attach SPDs.
Type 4 SPD is a component assembly consisting of one or more Type 5 components, together with an internal or external disconnect, or is a means for complying with the limited current tests.

Type 1, 2 and 3 component assemblies consist of a Type 4 component assembly with internal or external short circuit protection.

Type 5 SPD is for discrete component surge suppressors, such as metal oxide varistors (MOVs) that may be mounted on a printed wiring board (PWB), connected by its leads or provided within an enclosure with mounting means and wiring terminations.
Learn More About Surge Protective Devices (SPD) and Standards
Our team of product and engineering experts wants to clear up questions around SPD usage, installation and application. Take a look at past surge protection posts to learn more about the topic: