Proper grounding and bonding is essential across several applications. The top benefits of using a grounding and bonding solution are:
Safety of people and property
Prevention of costly downtime caused by outages
Optimization of grid performance by reducing losses and enhancing efficiency
A key part of the power grid is the distribution poles. The main goal of installing grounding and bonding to distribution poles is to provide an electrical connection to the earth plane. This allows for protection devices to operate during dangerous incidents, reducing the threat of lightning energy and ground faults. This also keeps the poles and system near the potential of the earth (~zero).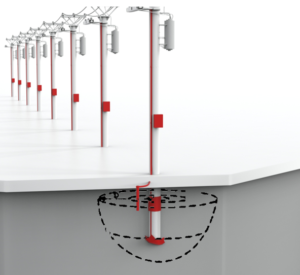 Grounding and bonding for distribution poles is supplemented by certain standards, such as Utility Substation Grounding NESC. These standards provide guidance and information critical to safety in electrical installations, including grounding practices. They include:
IEEE Std 80: Guide for Safety in Substation Grounding
IEEE Std 837: Standard for Qualifying Permanent Connections Used in Substation Grounding
IEEE Std 81: Guide for Measuring Earth Resistivity, Ground Impedance, and Earth Surface Potentials of a Grounding System
IEEE Std 998: Guide for Direct Lightning Strike
IEEE C2 – NESC: The National Electrical Safety Code
IEEE 2778: Solar Plant Grounding Design
IEEE 2760: Wind Plant Grounding Design
nVent ERICO's grounding solutions for distribution pole applications include transformer tank connections, ground clamps, copper-bonded ground rods, exothermic welding, and ground plates.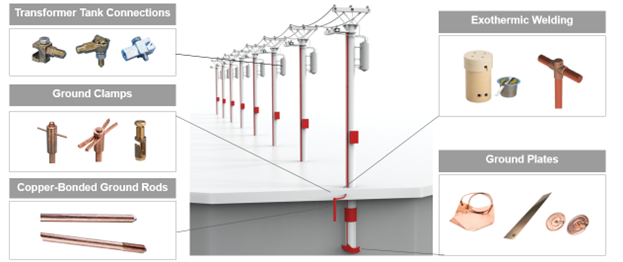 nVent ERICO Hammerlock
nVent ERICO Hammerlock ground clamps allow for "T" or pass-through connections with grounding conductors and ground rods, while protecting from ground fault currents and lightning strikes. The nVent ERICO Hammerlock is made of highly conductive copper, making an irreversible, low-resistance connection with excellent mechanical strength. Additionally, this product is UL 467 listed and suitable for Copperweld steel conductors.


nVent ERICO Hammerlock makes installation easy – requiring only a hammer – no special tools or training are needed. After installation, it's simple to visually inspect the final connection is made.
Hammerlock connections are also permanent, as opposed to conventional acorn clamps, which are subject to corrosion and loosening as soon as 9 years post-installation.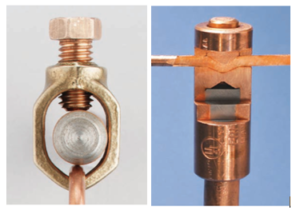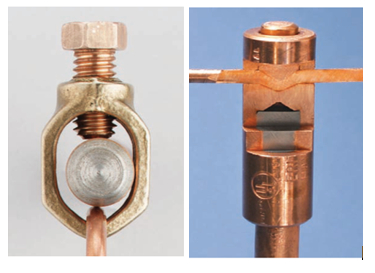 nVent ERICO Lay-in Hammerlock
nVent ERICO Lay-In Hammerlock is an irreversible, low-resistance connection with excellent mechanical strength. The installation is quick, with a structure that allows the addition of more ground rods to the same grounding conductor when already installed. Its shape also provides a visual indication of the completed connection.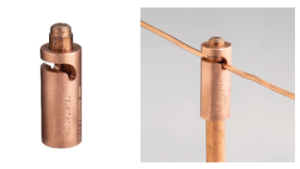 Additional features include:
Eliminates the need to feed the wire through the conductor
UL 467 Listed
Patent pending
nVent ERICO Lay-In-Lock Shear Connector
The nVent ERICO Lay-In Lock Shear Connector streamlines the installation process with its unique lay-in construction. This product allows for quick tap-in installation of two conductors by removing the ground bolt, creating an irreversible parallel connection anywhere on new or existing grounding grids. The lay-in feature ensures that conductors are held in place prior to securing the connection, making this product not only an installation simplifier but a time-saver.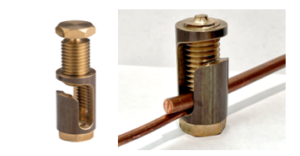 A few additional features:
Shear-off bolt head and unique lay-in feature to hold conductors
in place
Durable bronze material for superior corrosion resistance
Hexagonal design eliminates the need for specialized tools
Meets industry torque requirements and expedites inspection due to its highly visible,
permanent connection
Suitable for use with theft-deterrent cable and UL listed for #6 to #2 Solid and #6 to #6 Solid cable
Patent pending
nVent ERICO Ground Plates for Distribution Poles
nVent ERICO Ground Plates for Distribution Poles are an important piece for top-of-the-line grounding, safety, and property protection. These ground plates are made of corrosion-resistant copper and feature a large surface area in order to dissipate currents into the ground. These ground plates are  easy to install and are a highly cost-effective investment to reduce the risk of electrical downtime.

nVent ERICO Theft-Deterrent Conductors
nVent ERICO Theft-Deterrent Conductors are engineered to deter theft in areas where copper theft is an ongoing challenge. An outer layer of galvanized steel strands protect the internal copper strands, making it difficult to cut the conductor with hand tools that are commonly used in theft attempts. This not only improves reliability but also reduces the risk of downtime.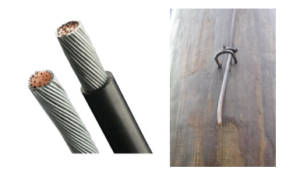 nVent ERICO Copper-Bonded Ground Rods
nVent ERICO Copper-Bonded Ground Rods are the highest quality ground rods on the market. Manufactured with proprietary continuous electroplating for the best corrosion resistance, these rods possess superior surface coating. These ground rods have a high carbon steel core and tip that provide superior strength when driving. These ground rods are made in the USA and are UL-compliant.

nVent ERICO Cadweld One Shot
nVent ERICO Cadweld One Shot exothermic welding system creates a permanent, low-resistance bond between electrical conductors and ground rods. This installation offers peace- of mind that the connections will not loosen or corrode over time.
Easy to use and with built-in safety features
Cost-effective single-use system with hands-on training available from nVent
Available in a variety of sizes to accommodate a variety of electrical conductors and ground rods

nVent ERICO Ground Enhancement Material (GEM) and nVent ERICO Quickfill
nVent ERICO GEM is an environmentally friendly means of reducing earth resistance in areas with poor soil conductivity and/or places with limited land availability. This product significantly improves overall grounding system performance.
Two Products Available:
nVent ERICO GEM: Cement-based material that is mixed with water and then poured around ground rods.

nVent ERICO Quickfill: A dry, carbon-based material that does not require mixing with water, and can be applied by a single person.

nVent ERICO Transformer Tank Connections
Made from durable materials, nVent ERICO Transformer Tank Connections provide a safe and secure connection between transformer tanks and ground rods. Engineered using durable materials, these connections are able to withstand harsh weather conditions over a long period of time, all while meeting applicable safety standards set by the National Electrical Code (NEC).

nVent Engineering Design Assist
nVent's Engineering Design Assist team offers several services for customers. Product and application design support offers design validation, site surveys and site take-offs. Another service offered is specification development, including application-specific product development, in-house product lab testing and application support. Training is also available through in-the-field training, on-site classroom training or virtually.
See a full listing of nVent ERICO's services here.
nVent ERICO grounding connection solutions offer a competitive edge when it comes to the utility environment and protecting the power grid. These solutions are robust, improving longevity and reliability while remaining cost-effective and easy to install. To learn more about how nVent ERICO ensures quality, safe, and long-lasting connections, visit our Power Utility webpage..