nVent ERIFLEX provides low-voltage connection and distribution products for several applications, including, but not limited to energy storage systems, fast DC chargers, battery packs, inverters, transformers, combiner boxes, recombiners, and the interconnection between electrical systems. This product offering provides a solution to add more inside an enclosure while minimizing the potential heat rise.
As electrical power conductors have evolved, so has the need for better insulation methods to provide safe, reliable performance in various applications. nVent ERIFLEX Advanced Technology (Advanced Technology) provides the most unique, safe and flexible solution for electrical power conductors. Advanced Technology is formulated with the latest safety technology to be low smoke, halogen-free and flame retardant.

nVent ERIFLEX products hold a wide range of certifications across the industry, meeting even the most stringent global compliance requirements. These requirements include IEC and ANSI/UL, as well as DNV GL and ABS, allowing for the installation of nVent ERIFLEX solutions in a vast range of applications. nVent ERIFLEX solutions are typically used in electrical systems rated up to 1000VAC IEC/UL and 1500VDC IEC/UL and for ampacities ranging from 80A to 7400A.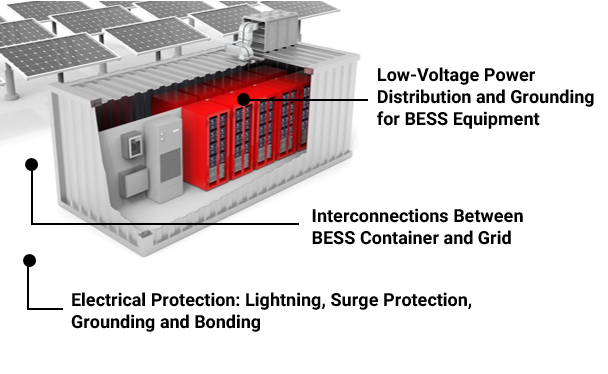 Application: Inside a Battery Energy Storage System (BESS) Container
nVent manufacturers low-voltage power distribution, connection and grounding products used in BESS containers. These products are engineered with safety and reliability in mind, and the nVent team will collaborate with design engineers to provide tailored solutions that meet your needs. Most nVent ERIFLEX products are intended for power distribution in higher-ampacity installation in the low-voltage industry.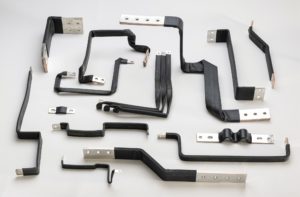 Essential nVent ERIFLEX products for inside the BESS container are:
nVent ERIFLEX Flexibar Advanced
nVent ERIFLEX Power and Distribution Blocks
nVent ERIFLEX Busbar support systems, including Low Voltage Insulators and compact adjustable busbar supports
nVent ERIFLEX Power Braids and Shunts
nVent ERIFLEX Grounding and Bonding Straps
Application: Interconnection Between BESS Container and the Power Grid
The power connection from the BESS container and the power grid is essential and needs reliable products to maintain a secure connection.
The all-new nVent ERIFLEX FleXbus System provides a patented connection solution between two pieces of electrical equipment. This unique concept reduces total installation cost without a specialized workforce or expensive tools.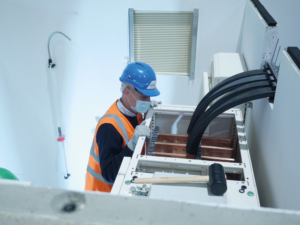 Additional benefits include:
Copper-clad aluminum technology allows for reduced weight.
Higher current efficiency using the flat braided technology.
Increased flexibility due to the flat braid technology and durable insulation characteristics.
Minimize the rapid spread of fire due to our proprietary low-smoke, halogen-free, flame-retardant insulation.
Minimize the risk of hot spots due to a direct connection without the need for crimping a lug.
Electrical Protection: Connecting and Protecting the Power Grid
Grounding, equipotential bonding, surge protection and lightning protection are all interdependent disciplines. Reliable protection of property and personnel demands a systematic approach to minimizing threats caused by transients.
Grounding and Bonding
nVent ERICO offers a comprehensive product offering of grounding and bonding products that are reliable, easy to install and provide critical protection, including:
Ground Rods
Ground Enhancement Material
Grounding Connectors – Exothermic and Mechanical
Theft-deterrent Grounding Solutions
Lightning Protection
The comprehensive nVent ERICO Lightning Protection product offering improves safety and provides critical protection. nVent ERICO lightning protection products offer design flexibility to solve your challenges. nVent ERICO solutions offer entire power grid electrical protection with our variety of lightning protection options.
Surge Protection
nVent ERICO offers surge protection devices for power distribution, discrete signals (inputs and outputs) and communication (data and RF) equipment with several benefits, including efficient and compact design, reliable performance and critical standard compliance.
Supporting Customers with Customized Product Solutions for Energy Storage, E-mobility, Power Utility, Solar and Wind
Collaborate with the nVent team to build a tailored solution in power distribution routing and connectivity, grounding and bonding, and lightning protection. nVent is here to support needs throughout the entire project.
Download the nVent Electrical and Fastening Energy Storage Brochure for full product details.