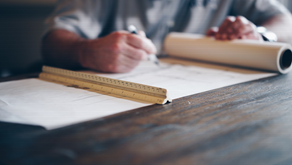 In the electrical field, engineers, contractors and others must refer to different standards, codes and more to do their work. But have you ever considered the differences between a code and a standard? Or, what about how those are entirely different than specifications or regulations?
To set the record straight on how each term is different from the next, as well as how they all are related, continue reading below.
What Is a Code?
A code is a set of rules that serve as generally accepted guidelines recommended for the industry to follow. They exist for the purpose of safety, quality or other benefit. For example, electrical codes exist to ensure system reliability and that building occupants are safe from shock risks.
On its own, a code is not a law that must be followed, but can be adopted into a law or included in a business contract.
Each code specifies the minimum acceptable requirements for an electrical process or for the performance of the final system itself. Codes may incorporate or refer to existing standards or specifications (which are discussed below).
Is Compliance with a Code Mandatory?
A code on its own does not need to be followed, but compliance is often a best practice. The intent of a code is for it to apply widely across an industry, making it easy to be adopted and customized by local jurisdictions. Codes that have been adopted by a city, state or country must then be followed.
Local jurisdictions may diligently review a code to ensure it is acceptable and applicable to the area, and it may take years for a jurisdiction to adopt a code.
Key Electrical Code
In the U.S., local codes have almost entirely adopted NFPA 70 standard as the National Electrical Code (NEC) in full, or based their own requirements on it. The NEC lays out required practices for all aspects of residential and commercial electrical installation. Every three years the NEC is revised (in 2017, most recently), but because local jurisdictions have the final say on whether each edition is law, adoption can be slow.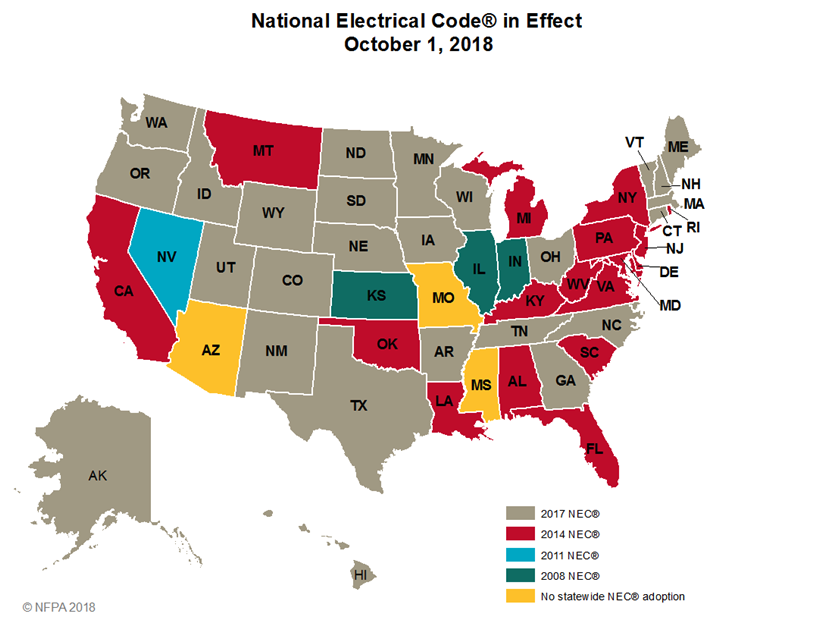 This NEC adoption map shows that, as of October 1, 2018, 2017 NEC is in effect in only 26 states. Within each state or city, individual code guidelines may be adjusted.
What Is a Standard?
According to the National Fire Protection Association (NFPA), a standard tends be "a more detailed elaboration, the nuts and bolts of meeting a code."
A code tells you what you need to do, and a standard tells you how to do it.
While a code provides requirements for the products (e.g. material performance level) and processes (i.e. methodology of the design) involved in installation, standards benefit both the contractors and engineers who employ them, and also the end user. The how-to nature of a standard:
Creates a common language in the industry for a given process.
Documents the requirements for products, practices, methods or operations.
Builds confidence about the quality and safety for users.
Lowers the cost of production as requirements are standardized.
Standards fall into two general categories:
Voluntary standards. One type of voluntary standard is established by a private-sector body and made available to persons or organizations, whether private or public, to use. Also considered voluntary standards are those known as "industry standards" or "consensus standards." The Occupational Health and Safety Administration (OSHA), for example, may make a voluntary standard mandatory as a result of its use, reference or adoption in its regulations, or when invoked in contracts, purchase orders or other commercial instruments.
Mandatory standards. A mandatory standard requires compliance because of a government statute or regulation (discussed below), an organization internal policy or contractual requirement. Failure to comply with a mandatory standard's guidelines can cause legal repercussions.
Key Standards in the Electrical Industry
One important electrical standard is IEEE Standard 142. This standard, which applies to industrial and commercial power systems, introduces basic grounding theory and goes on to provide the in-depth information needed to help develop effective grounding systems.
Another example is the OSHA electrical standards, which became adopted regulations in 1990 and are based on NFPA 70E, Electrical Safety Requirements for Employee Workplaces. Most of this standard details required safety procedures, with the goal of keeping electrical workers safe from the hazards of shock, electrocution, arc flash and arc blast.
What Is a Specification?
Unlike a code or standard, which can apply broadly to an industry and region, specifications outline the requirements of a specific company or product. A specification provides specific requirements for the materials, components or services used in an application. Sometimes, a specification will also dictate a standard installation or design layout of those components. Specification requirements may go above and beyond code or standard requirements.
An individual company may develop specifications for a given project or common installation, specifying the materials—potentially even the specific brand wanted—for a project. A specification may also be adopted and implemented across numerous different projects. For example, a grounding system designed for a given application may be sufficient for most situations. If some locations have difficulty meeting the specification with the standard layout, a grounding specification may outline additional measures to improve site results.
What Is a Regulation?
A regulation is mandated by a government body and requires that—by law—those in the industry comply. The regulation can incorporate codes or standards, or be created completely on its own. Unlike a code or standard, a regulation does not necessarily require any industry consensus or knowledgeable body to put it in affect.
For example, the Connecticut Legislative Regulation Review Committee approved to implement the 2017 NEC starting October 1, 2018. They also adopted 2015 building and fire safety codes. Though these codes were generally accepted guidelines recommended for the industry to follow, they were not regulated in Connecticut prior to October 1.
A Summary of Codes, Standards, Specifications and Regulations
When it comes to facility electrical protection, it's important to follow the codes, standards, specifications and regulations that are either recommended or required by law. As a recap, we've defined the following:
Codes are generally accepted sets of rules that tell you what you need to do.
Standards provide the "how to" of executing codes.
Specifications, unlike codes or standards, outline the requirements of a specific company or product.
Regulations, which can incorporate codes and standards, are mandated by a government body and required, by law, to be complied with.
Learn More About Electrical Codes, Standards, Specs and Regulations
Now that the basics of these four terms have been covered, stay tuned for future posts about information on the specific codes, standards and more impacting the electrical field. Subscribe to the blog to be instantly notified when a new post is published.