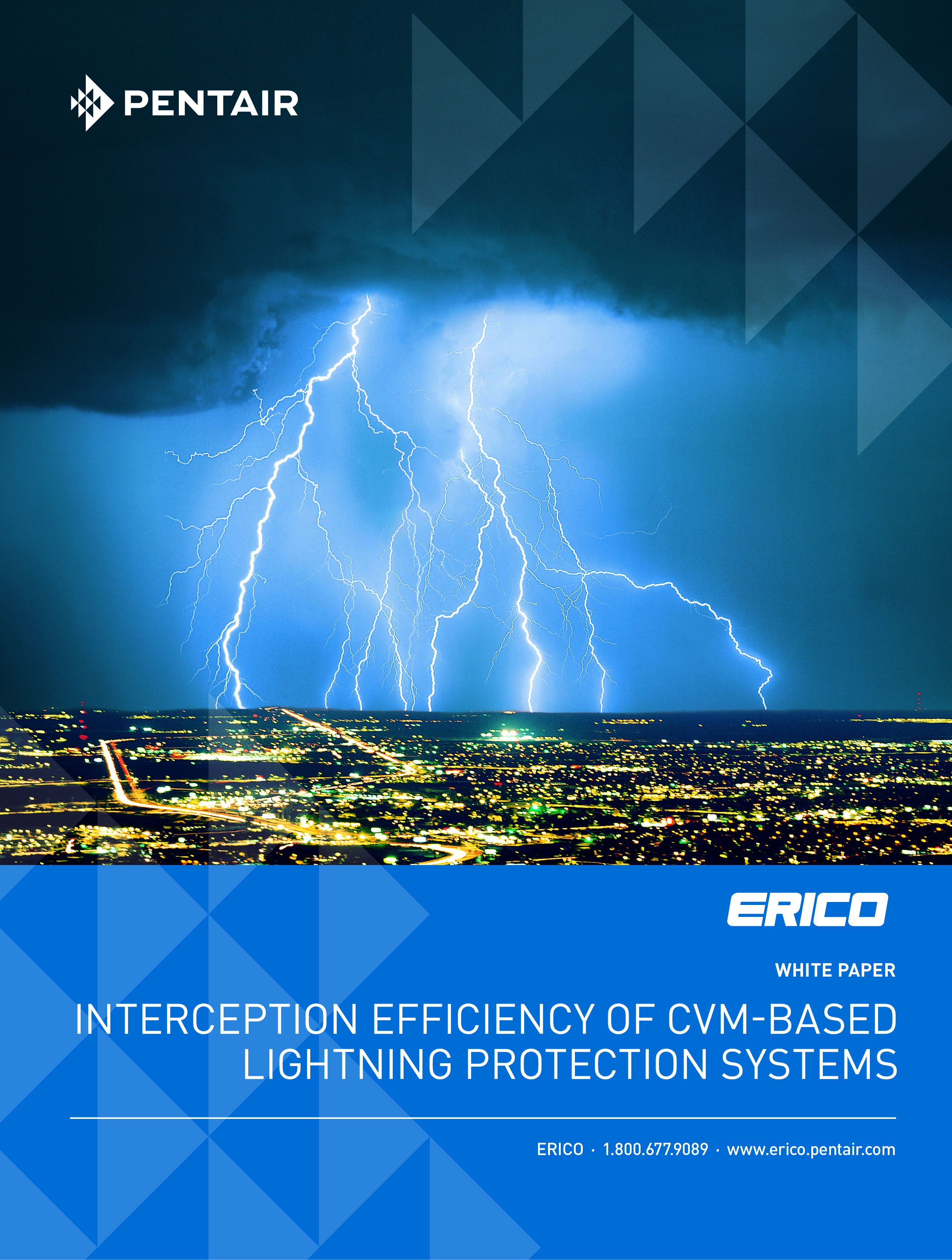 Lightning protection systems have come a long way since their initial invention in 1752. Thanks to new technological advances, modern building structures and evolving standards, today's lightning protection systems effectively guard our structures from hazardous or deadly lightning strikes.
While conventional lightning protection systems prove to be effective, research has shown that alternative methods can successfully protect structures up to 84% – 99%, based on the desired levels of protection.
Continue reading to learn how engineers can gain optimal lightning protection.
Powerful New Insights on Optimal Air Terminal Placement
An unprecedented field-validated study of the Collection Volume Method (CVM) for lightning protection systems sheds powerful new insights on optimum air terminal placement, and the validity of the CVM's claimed interception efficiency levels. The Collection Volume Method, also known as Eriksson's Attractive Radius Model, considers the physical criteria of air breakdown, and the electric field intensification created by different points on a structure.
To test the validity of CVM-based lightning protection systems, a study of 33 buildings in Kuala Lumpur, Malaysia was conducted. The buildings were protected by a system of air terminals optimally placed according to the CVM. The data was collected by an independent technical agency, TÜV-Hessen, and published by Harold S. Haller and Wojbor A. Woyczynski.
With this information and field-tested data on hand, it's confirmed that a CVM-based lightning protection method is a viable alternative to the standard Rolling Sphere Method (RSM) on which engineers frequently rely.
Gain a Deeper Understanding of CVM-based Systems
Download our latest whitepaper, "Interception Efficiency of CVM-based Lightning Protection Systems," for an explanation of the new field-validated data. Our whitepaper explores:
Whether the actual, field-tested efficiency of a CVM-based lightning protection system holds up to the projected interception efficiency.
Why the CVM can be used as a viable alternative to the conventional RSM.
What the study's findings mean for future lightning protection placement.
Before engineers dive into their next lightning protection installation project, they can learn what factors to assess for maximum protection. What are you waiting for? Download your copy today!