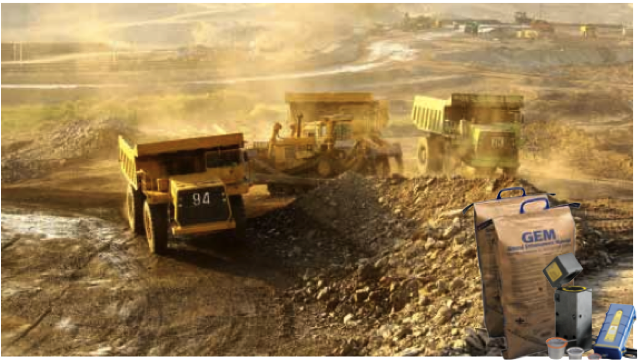 The Peak Gold Mine, located in New South Wales, Australia, provided gold deposits and copper concentrate throughout the Asian Market from 1896 to 1920.
While the Peak Gold Mine concluded production long before the change of the millennium, production resurfaced at the mine in the mid 2000s, thanks to the discovery of additional gold.
Despite challenging ground conditions, miners at the Peak Gold Mine have uncovered 99,072 ounces of gold, along with 9,070 tons of copper, and have a predicted working life through 2020.
So how was this massive amount of materials unearthed from a century-old mine? Continue reading to learn how ERICO Ground Enhancement Material (GEM) improved the grounding system and power quality at Peak Gold Mine.
Rocky Conditions Impose a Challenge to Establish Low Impedance Grounding System
Before the copper and gold could be extracted, electrical substations were required to provide sufficient power to the mine. The area's rocky ground conditions, paired with the extreme drought the region was facing, made driving ground rods impossible.
Installers drilled holes in order to install grounding electrodes using bare conductors that were enclosed in bentonite-enhancement materials. However, the dry soil caused the bentonite to separate from the electrodes.
To remedy this issue, ERICO GEM was used. Additionally, ERICO GEM reduced the amount of electrodes required due to its low resistance performance.
ERICO GEM Prove Ideal for Conditions with High Soil Resistivity
ERICO GEM is ideal for use in areas with high resistivity soils, including rocky earth, mountaintops and sandy soil. Once GEM is installed, it is virtually maintenance free, unlike other enhancement materials that require periodic replacement.
ERICO GEM also offers the following benefits:
Maintains resistance for the life of the system.
Performs in all soil conditions regardless of drought or dry spells.
Fully set in the ground within three days and cure within 28 days.
Environmentally safe and cost effective.
Ready to use and maintenance free.
Stabilizes the low resistance performance of a grounding system during variances in weather conditions.
Overall, ERICO GEM helped reduce costs associated with grounding system installation and maintenance at the Peak Gold Mine.
To learn more about how ERICO improved the grounding system and power quality at Peak Gold Mine, read the full case study here. For more on our GEM products, visit our website.