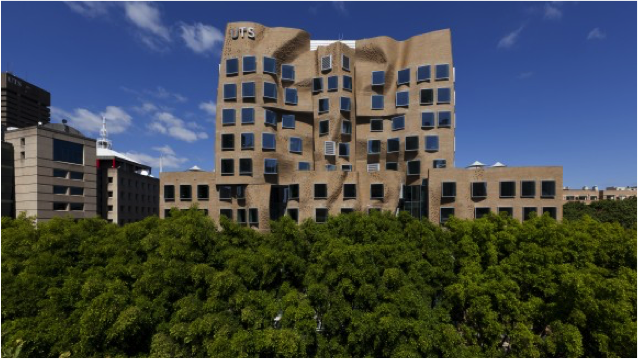 Editor's note: This post was originally published in 2017 and has been updated to be more comprehensive.
Famed architect Frank Gehry is known worldwide for his unique, contemporary style across a variety of building types. He is best known for designing the Guggenheim Museum in Bilbao, Spain; Walt Disney Concert Hall in Los Angeles; and the Experience Music Project in Seattle, among other famous works.
In 2009, Gehry embarked on his next project: the Dr. Chau Chak Wing Building at the University of Technology Sydney (UTS) in Australia. The building was part of a $1 billion campus renovation project and Gehry's first time designing a building in Australia.
The building was completed in November 2012 and came in on budget at $180 million. The structure stands tall at 12 stories high, yet has only one straight column supporting the entire building. Furthermore, the longest unbroken column is only 13.98 meters (45.87 feet).
Built with approximately 320,000 bricks, builders claimed the structure to be a challenge to construct. But another challenge arose even after construction was complete: installing a functional lightning protection system to adequately safeguard such a uniquely designed building.
Read below to learn how nVent ERICO parts were used in the installation.
Unique Facade Creates An Unconventional Lightning Protection Challenge
The main challenge of installing a lightning protection system on the Dr. Chau Chak Wing Building was that it contained uniquely designed columns. In a conventional structure, a lightning protection system would be installed around the perimeter with several down conductors. In this case, an air terminal network and earthing system would be used to safely dissipate the lightning discharge at the top of the building.
A conventional installation method would not suffice on the Dr. Chau Chak Wing Building due to the unique column. Furthermore, the building does not have a metallic façade, but is made of 320,000 bricks, proving incompatible with conventional methods.
nVent ERICO Advanced Lightning Protection System to the Rescue
When the team realized it would have to find another option, it chose an advanced lightning protection system, nVent ERICO System 3000. System 3000 is a technically advanced lightning protection that can be used as a viable option when conventional methods are not.
System 3000 features include:
nVent ERICO Dynasphere air terminal.
nVent ERICO Ericore downconductor.
Lightning event counter.
Low-impedance ground conductor.
System 3000 was appropriate for the Dr. Chau Chuk Wing Building because its downconductor arrangement reduces the risk of a side flash and the possibility of an induced voltage within the building. This integrated lightning protection system was installed in one of the mechanical risers within the building.
With the help of System 3000, the structure is now adequately protected from damage—inside and out—in the event of a strike.
Want to learn more about how System 3000 protected Frank Gehry's unique masterpiece? Download the full case study here. Or, subscribe to the nVent ERICO blog for more industry trends and success stories like this.