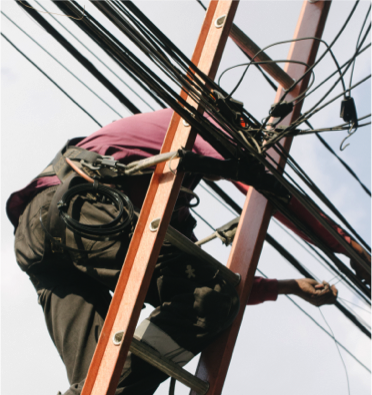 The changing electrical workforce, and the skilled workforce as a whole, has been a hot topic over the past few years. Both attracting a new generation of skilled laborers, and increasing the safety of the existing workforce should be top of mind for electrical employers.
In this installment of curated industry news, we take a look at the oft-discussed millennial workforce, the cost of safety and health in the workplace and the most common OSHA violations of 2018.
Why Millennials Become Electricians
In an attempt to grow the number of millennials entering the skilled labor force, first consider those currently working as electricians. Klein Tools' annual "State of the Industry" survey found a few key stats about younger electricians:
77% entered the field as an apprentice.
52% entered the field because they enjoy "problem-solving and the technical aspects of the electrical industry."
Half chose the career due to the field's job security.
For employers, developing more apprenticeships and training opportunities is a huge opportunity. And to spread awareness, electricians can emphasis both the problem-solving nature of the job, as well as the security it provides.
For more millennial-related takeaways and analysis from the report, view this article by Industry Week.
The Financial Advantage of Safety Compliance
Late 2016 marked a significant change in how the Occupational Safety and Health Administration (OSHA) regulates injuries and fatalities in the workplace. Fees for less severe breach violations rose from $7,000 to nearly $13,000. For deliberate or repeated violations, it increased from $70,000 to nearly $130,000.
Aside from the ethical argument for safer workplaces, these fines give businesses an even clearer bottom-line advantage to comply with regulations.
A recent study found that small- to mid-size businesses spend around $53,000 per year on health and safety. For comparison, a single violation costs $129,336 on average. Yet most inspections find more than one safety violation, and a severe accident will dramatically escalade the cost.
Learn more about the financial advantages of a safe workplace by reading the full article on EC&M's website.
OSHA's Top 10 Violations of 2018
OSHA compliance helps electrical employers maintain a safe workplace that also avoids costly violations. OSHA announced an early list of the top 10 most cited violations for 2018, made up of the following:
Fall protection
Hazardous communication
Scaffolding
Respiratory protection
Lockout/tagout
Ladders
Powered industrial trucks
Fall protection — training requirements
Machine guarding
Personal protective and lifesaving equipment — eye and face protection
Available on EC&M's website, see a more detailed explanation of each safety and health violation.
Stay Current on Facility Electrical Protection News and Tips
With a mix of original content and curated posts like this one, subscribe to the blog to get more industry news, product information and practical electrical protection advice.
Image credit: Unsplash