Winter weather impacts transportation for millions in North America. Among the areas affected by inclement weather is the largest metropolitan area in the world, the New York City area. With weather disturbances comes the risk of mass transit systems, like subway transportation, experiencing delays and potentially being out of service.
However, with over 20 million people living and working in the New York City metro area, temporary delays or a full shutdown of revenue service is not an option. As snowstorms, icy conditions or other elements that come with winter weather approach, questions in how mass transit will remain fully operational arise and must be answered ahead of time.
Advanced Preparation is Paramount
Fortunately, with the foresight to plan and prepare, New York City area mass transit systems were able to continue operating during the large storms thanks to reliable nVent RAYCHEM Rail and Transportation solutions that enhance safety, comfort and performance for mass transit operations during winter months. Whether it's de-icing, snow melting, freeze protection or other solutions,products from nVent RAYCHEM help ensure mass transit systems stay functional throughout inclement weather.
Contact Rail Heating Keeps Passenger Trains Moving
Among the solutions provided to the New York City area mass transit infrastructure is nVent RAYCHEM Contact Rail Heating (CRH) Systems. A contact rail, or third rail, provides power to rolling stock via an additional rail that acts as an electrical conductor. Typical in passenger transit systems, the contact rail is a critical part of track infrastructure that must be protected from snow and ice to avoid serious disruptions to service. We offer two types of contact rail heating systems, nVent RAYCHEM CRH-SL and nVent RAYCHEM PTC-Z.
CRH-SL self-regulating heating cables feature a polymeric, semi-conductive core extruded between the two parallel bus wires. This parallel construction allows the cable to be cut to length. The power output of heating cables decreases with increasing temperature due to the self-regulating behavior of the semi-conductive core. This ensures no overheating of the cables at high power outputs. The cables have rugged aluminum lamination that ensures efficient heat transfer to the rail as well as reduced risk of in-service or installation damage.
PTC-Z is a service-proven system capable of high wattage output to melt snow and ice in the most demanding winter conditions. It utilizes an energy-efficient, power-limiting technology that reduces total cost of ownership and features a rugged heating cable, durable enough to resist in-service damage to provide long-lasting performance on track.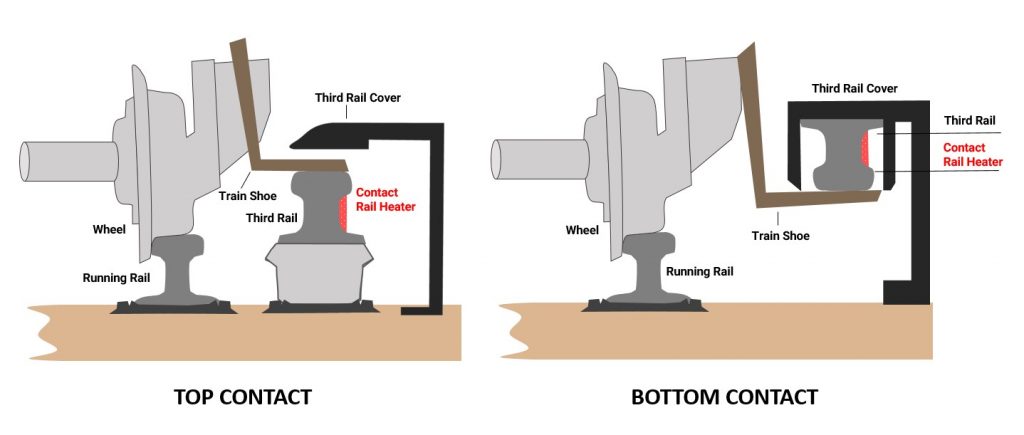 Both systems are easy to install with included proprietary spring clips and fiberglass channel attachment hardware. Heaters arrive at the job site pre-terminated for simple field connections
Decades of Experience, Thousands of Cable Installations
We've supplied over 1.5 million feet of nVent RAYCHEM contact rail heating cables installed throughout the New York City area's rail systems, trusted to protect a network that serves approximately six million daily riders. With a custom design specific to Metropolitan Transportation Authorities (MTA) rail systems, Contact Rail Heating Systems prevent ice from forming on contact rails that helps keep trains moving even in the worst winter conditions.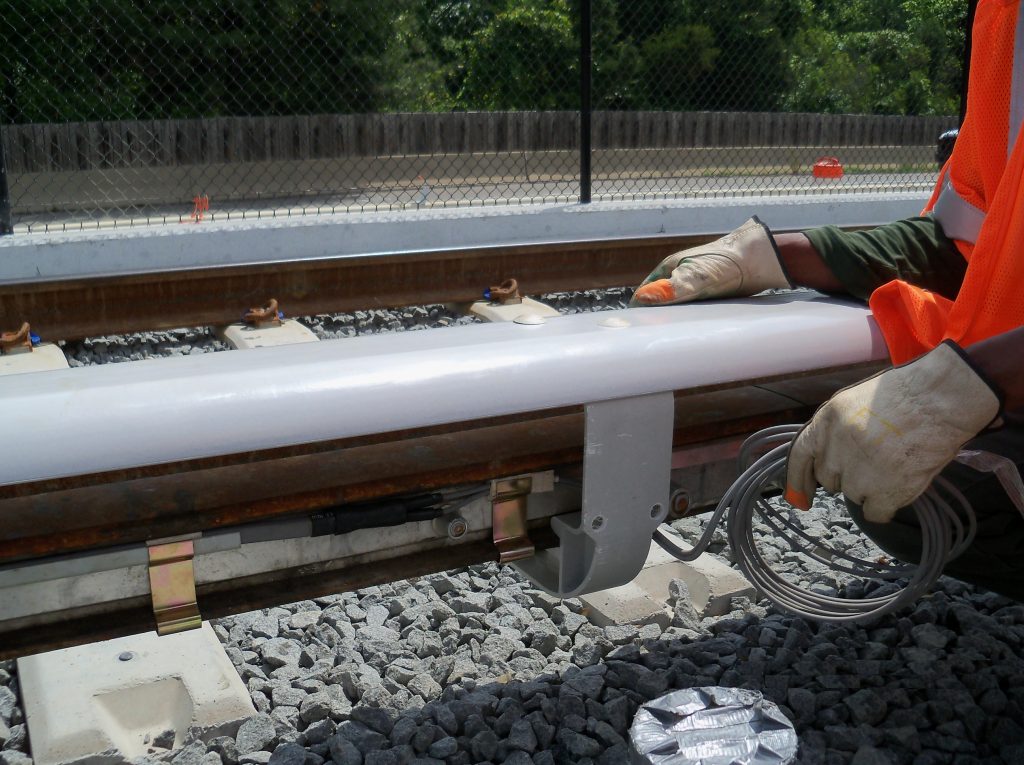 Put Us to the Test
With a portfolio that also includes a variety of heating solutions, nVent is the go-to source for keeping critical passenger transit systems on track during the winter months. Want to qualify our solutions on your network? Put us to the test. It's not too late to set up a trial installation during these winter months ahead of the next construction season. Visit our rail heating system promotional site for more product information and fill out the contact form to set up a trial.