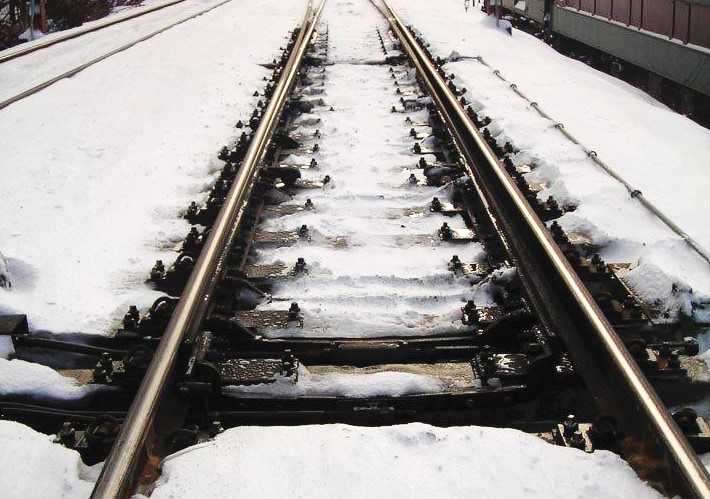 Winter weather poses a significant challenge for railways throughout the world. It's not just cold weather climates that are affected—any region that gets cold enough for freezing rain can see disruptions to rail service.
Safety and reliability are the cornerstone of successful railway operations, but delays
caused by winter weather can put a debilitating strain on passenger and freight service.
This past winter, severe conditions caused significant service disruptions throughout North America. A Class I Railroad recently noted to an industry trade publication that exceptional cold temperatures, and snow accumulation, impacted transportation of grain and other commodities across the continent.
Preventing Snow and Ice Build-up on Railway Switches
Rail operations is challenging in winter conditions, with snow and ice-accumulation, as well as extreme cold, putting a strain on infrastructure and equipment. Railway switches are an especially critical piece of rail infrastructure that must be kept clear during the winter months for safe, reliable operations. Snow and ice accumulation on railway switches can easily prevent proper switch alignment, putting an approaching train at immediate risk of derailment.
To keep railway switches free from snow and ice accumulation, railroads employ a number of methods, including electric heating rods, hot and cold blowers, and even systems that use open flames. Many of these traditional solutions provide adequate performance but have limitations, including safety and efficiency. nVent offers an innovative approach to railway switch heating that provides superior performance with a safe, energy-efficient solution up to 30 percent more cost effective than traditional systems.
Proprietary nVent Self-Regulating Heating Cables
The new technology is based on a system developed more than 30 years ago by Raychem Corporation, now nVent RAYCHEM. These advanced nVent RAYCHEM self-regulating heating cables automatically sense rail temperature changes to deliver heat along the length of the cable where and when it is needed. The radiation, cross-linked core of the self-regulating cable responds to ambient temperature changes by opening electrical paths to deliver heating power in response to cold temperatures and constricting electrical paths that deliver heat in response to warm temperatures.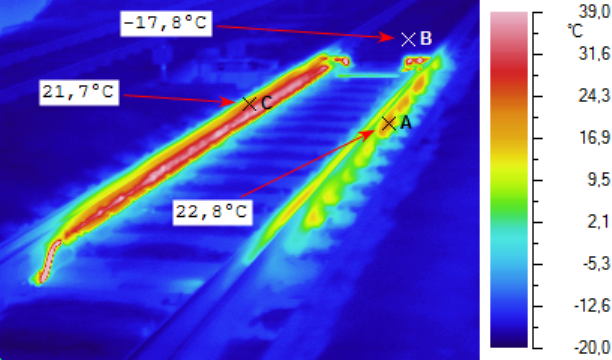 Because nVent RAYCHEM self-regulating heating cables automatically begin working when rail temperatures change, the system does not need to be independently operated with a control panel, although nVent trackside heating control solutions can be adapted to the self-regulating system.
Advantages of the nVent Self-Regulating Switch Heating System
The nVent Self-Regulating switch heating system offers numerous advantages that make it an ideal solution for tackling snow and ice on railway switches. These include:
Energy Efficiency: Because the system operates when needed, it yields up to 30 percent more efficiency than conventional systems, adding significant cost savings.

Operational Safety: The system will never become overheated,
as heat is evenly distributed throughout the fixed and moving rail without creating dangerous hot spots. With lower operating voltages of 24VDC, the max heat of the system is 176°F (80°C), keeping it
safe to the touch for personnel. And during installation, the system will not contact wires under electrified lines.

Simple, Durable Design: The system is secured by quality
nVent ERICO Railclips, which resist corrosion caused by weather and environmental pollution. Held in place by the rail clips, the system effectively withstands excessive vibrations from heavy rail traffic.

Easy to Install: Each cable can be cut to length in the field without negatively impacting heat output, ensuring a simple, proper fit. nVent's custom system design options and full-service engineering provides a host of value-added options, including state-of-the-art connection kits and other accessories.
Learn More About nVent Rail and Transit Solutions
nVent connects and protects critical systems and infrastructure, helping railways improve safety and reliability. Our full trackside heating portfolio includes other types of switch heating systems, including a power limiting technology and heating solutions for contact rails and overhead catenary lines.
See the nVent RAYCHEM self-regulating heating cables on display at InnoTrans. And get to know the many other ways nVent connects and protects railways. Visit us Sept. 18-21 at InnoTrans, the leading international trade fair for transport technology! We'll be exhibiting in Hall 11.1, booth #220. Stop by to learn more about our product portfolio and how our solutions protect critical railway systems.
The best part? Your attendance is on us! Click here to register for InnoTrans and receive a free ticket.