When it comes to transporting people and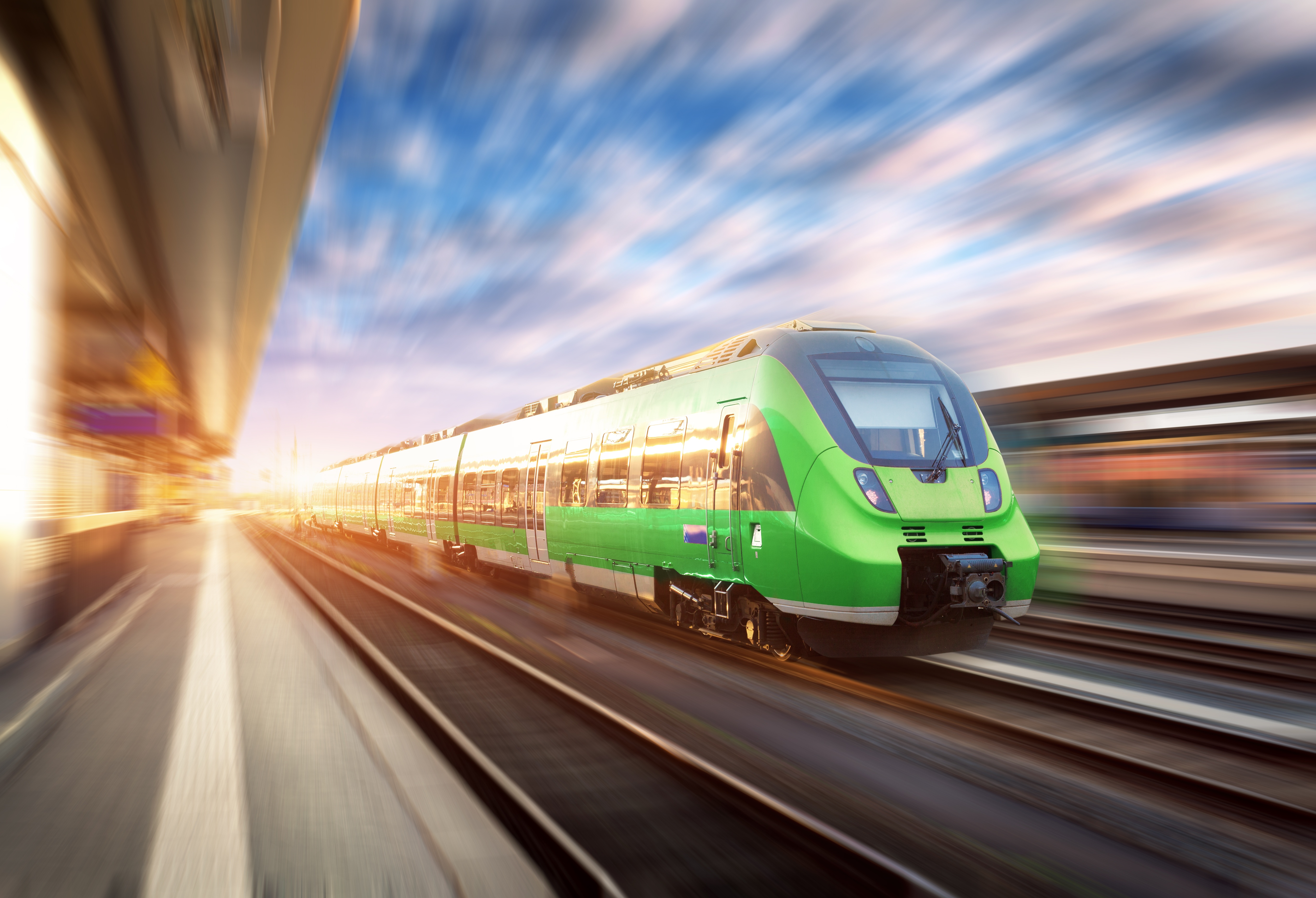 goods, railroads typically have a lower environmental impact than other modes of transportation. Further, many regions around the world are turning to electric powered trains to reduce heavy traffic congestion and improve air quality. From propelling electric vehicles to
powering more efficient control and monitoring technologies, It's clear that next generation
electrical systems will provide the foundation
for the future of railroading.
Complex Electrical Infrastructure
Electric rail vehicles require complex infrastructure and systems. Onboard, electricity powers vehicle traction, signaling and communication electronics, and utilities that include lighting and HVAC. A typical electric locomotive requires multiple forms of electricity, from high-voltage DC energy used in propulsion motors to low-voltage AC energy to power onboard systems.
While the environmental benefits of electric powered rail vehicles are apparent, operators and suppliers are challenged to meet increased expectations for performance and efficiency. For example, some high speed electric trains have as many as 50 rectifiers converting electrical current back and forth from AC/DC and back again. And, as digitalization and IoT (Internet of Things) continues to transform the railway industry, an ever increasing array of new electronics are integrated into and on top of onboard systems, pushing the electrical systems to the limits.
nVent Makes Onboard Electrical Systems More Efficient
As a leading provider of niche electrical products, we help rolling stock OEMs and system integrators improve the efficiency and safety of onboard electrical systems with nVent ERIFLEX's innovative line of power distribution solutions. nVent ERIFLEX electrical connection solutions include power conductors, busbars and power/grounding braids, all featuring proprietary designs that help overcome some of the basic challenges of onboard electrical systems.

nVent ERIFLEX Flexibar Advanced is a flexible power conductor/busbar for low voltage power applications that makes it easier to incorporate new and more complex onboard electrical equipment and systems. Offering nearly endless connection possibilities, Flexibar Advanced has been widely accepted by major transportation companies as a replacement for traditional cable wire. For connections made between main power and distribution equipment, transformers and busducts, and/or busducts and electrical cabinets, Flexibar Advanced provides:
Flexibility – Comprised

of multiple layers of thin electrolytic copper and proprietary insulation material, Flexibar Advanced can

be bent and shaped for all sizes, making it ideal for unique applications and tight spaces.
Space Savings – Flexibar Advanced c

onsumes 25 percent less volume than conventional cable wire, and it weighs approximately 40 percent less, allowing panel boards to be more compact.

Greater Efficiency –

With greater ampacities, a single piece of Flexibar Advanced can replace multiple runs of conventional cable wire, reducing material cost.

Safety – The unique insulation material of Flexibar Advanced is low smoke, halogen-free and flame retardant that improves the safety and reliability of the overall electrical system. Flexibar Advanced conforms to key fire testing standards for onboard railway components, including NF EN 45545 (European Union) for which it has secured an HL2 classification for chapters R22 and R23.

nVent ERIFLEX Flexibar Advanced is made to order, delivered in preformed configurations based on customer provided drawings and specifications. Flexibar Advanced can also be cut, punched, twisted or bent to address your most challenging panelboard designs and production scheduling requirements.To learn more about how nVent ERIFLEX products are an important part of next generation railway systems, contact us at rail@nvent.com.
Learn More About nVent Rail and Transit Solutions
Get to know the many ways nVent connects and protects railways. Visit us Sept. 18-21 at InnoTrans, the leading international trade fair for transport technology. Stop by Hall 11.1, booth #220 to learn more about our product portfolio and how our solutions protect critical railway systems.
The best part? Your attendance is on us! Click here to register for InnoTrans and receive a free ticket.