The railway industry is undergoing a transformation with the introduction of next-generation technology. High Speed, Big Data, IIOT, Predicative Maintenance, and many other industry buzz words are predicated on one major shift – the transition to next-generation rail telecom. Specifically, the shift from the existing standard, GSM-R (Global System for Mobile Communications – Railway) to LTE networks (such as 4G and eventually 5G). This transition will have major implications for the future of rail technology. As a leading supplier of rail certified enclosures, nVent SCHROFF has been on the vanguard of next-generation rail signaling and communications. Enclosures are playing an increasingly important role in the transition to the next-generation rail by providing critical protection for sensitive electronic equipment. In addition, enclosures such as cabinets, subracks, and specialized cases form the foundation of these new advanced systems, and in many cases are essential to the functionality of the electronic equipment itself. Through the nVent Rail Blog, we will be discussing our experience in this exciting area of next-gen rail technology, and highlighting some of the new requirements, challenges, and overall implications of integrating advanced electronics into rigorous conditions of the rail environment. This first post will cover the new requirements for EMC shielding with LTE mobile networks.
GSM-R (Global System for Mobile Communications – Railway) is the dedicated rail telecom network which has been the international railway standard since its inception in the year 2000. GSM-R is based on telecom technology that has essentially reached the end of its life-span, it is no longer able to meet the current and future data transmission needs of the rail industry. The transition from GSM-R to LTE networks poses numerous challenges, many of which are simply the obstacles presented by the rail environment (i.e. fast-moving trains, tunnels, trees, and foliage, etc.). With LTE networks (4G/5G), signal interference will be an issue (whereas it is not much of a concern with GSM-R). The railway environment is already a very complex electromagnetic landscape due to the many electrical systems at work within the rail network, with electrical current applied on track (for signaling and traction power), and for many other types of applications including signaling and communication systems. In next-generation LTE networks such as 4G and eventually 5G, there are more conditions that can cause an electromagnetic disturbance than is possible with GSM-R.
In other words, next-generation rail signaling and communications will have entirely new Electromagnetic Compatibility (EMC) requirements. EMC describes the ability of electrical systems and equipment to function properly within a given electromagnetic environment. The IEC (The International Electrotechnical Commission) puts forth EMC protection requirements (i.e. degrees of protection provided) for enclosures (IEC 61000-5-7) to ensure that the electronics housed within can coexist within the given electromagnetic environment, and thus function properly. There are many new considerations that come with next-generation railway telecom. 5G, for example, will operate in a radio spectrum with higher frequencies and thus require higher EMC protection levels to prevent interference. EMC also plays an important role in telecom cybersecurity as EMC protection is needed to prevent malicious signal interference. The transition from GSM-R (the dedicated rail telecom network) to LTE service (which will likely be supplied by an outside telecom provider such as AT&T) will create cybersecurity challenges that will ultimately require more robust EMC protection.
nVent SCHROFF offers rail certified enclosures that provide EMC shielding levels high enough to meet the requirements of next-generation signaling and communication applications. EMC protection is an essential function of electronics enclosures for which nVent SCHROFF has established expertise over the course of many decades. All nVent SCHROFF products are designed and tested to provide the necessary EMC protection levels, and in some instances, is the only manufacturer that can meet certain EMC requirements. For example, the nVent SCHROFF Varistar Cabinet for Rail is the only commercially available electronics cabinet tested to an EMC spec up to 10GHz. Next-generation rail signaling equipment will have varying requirements for EMC protection levels, whether protecting against malicious signal interference or allowing for high-frequency signal operation. Based on modular platforms, nVent SCHROFF products are configured to meet specific needs, including EMC protection levels. By meeting individual application requirements for EMC, proper protection is provided in an efficient, cost-effective way, which is why nVent SCHROFF is already making a contribution to next-generation rail signaling and communications.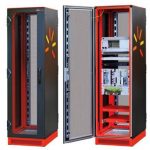 The nVent SCHROFF Varistar EMC cabinet (pictured above) has a robust, welded, heavy-duty frame and is specifically tested and certified for railways trackside indoor applications:
• IEC 61 587-1 for robust mechanical structure & physical performance
• EN 61000-5-7 and IEC 61587-3 for advanced EMC shielding up to 18 GHz
• IEC 60529 for ingress protection up to IP55
• EN 45545-2 for Low Smoke Zero Halogen compliance
• CENELEC EN 50125-3 certification for smooth performance against shock & vibration
for trackside use (1-3 m from the track)
• AREMA 11.5.1 class C (designed to meet US railway standards for trackside use in bungalows)
Interesting in learning more about nVent SCHROFF rail certified enclosures?