Self-regulating heating cables have been around for many years, used for pipe freeze protection and process temperature maintenance applications. It's considered one of the most reliable electric heat tracing technologies for protecting critical industrial processes. However, as extreme weather conditions continue to be unpredictable, combined that with demands on increased efficiency and productivity, operators need to be confident that their self-regulating heating system continues to provide a reliable high-performance solution to count on, not only through the harsh Winter but for decades to come.
nVent RAYCHEM HTV Self-Regulating Heating Cables with High Power Retention (HPR) Technology
nVent introduced the nVent RAYCHEM HTV heating cable this summer and will prove to be a key solution during the winter.  It can withstand temperatures up to 500ºF (260°C) and provide process temperature maintenance to 400ºF (205°C).  The HTV cable has a solid construction with high power retention (HPR) heating core and pressure extruded electrical insulation. This innovative heating core technology and product design results in a solution you can rely on for the Winter.  It provides:
Superior heat transfer
Super reliable power output for the long operational life
Ease of installation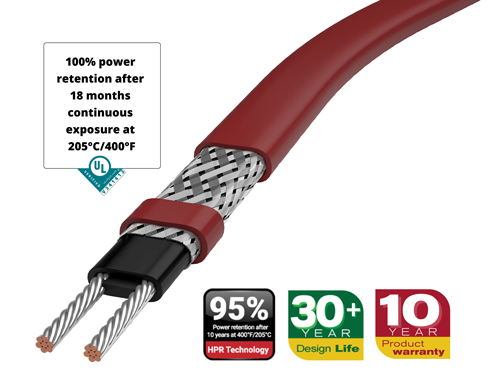 A Breakthrough in Polymer Science Technology
nVent relied on 75 years of expertise in polymer material science to develop this high-performance heating cable with HPR technology.
A new semi-conductive poly nanocomposite material was created with increased thermal stability which provides superior power retention at high temperatures.  In fact, the long-term power retention capability was recently verified by Underwriters' Laboratories (UL) to retain 100% power output following 18 months of intensive, continuous testing at the product's maximum operating temperature of 205°C (400°F). What does this mean? Using this ongoing test data combined with 3D Arrhenius modeling techniques to establish lifetime ratings of the heating cable, nVent RAYCHEM HTV has set a new standard in electric heat tracing performance.  The result is a heating cable that can maintain a minimum of 95% power retention for 10 years and has a design life of 30 plus years.
This Winter, industrial plant operators can truly implement a self-regulating heating system, not only to protect their processes through the harsh weather conditions but lift their process integrity and operational efficiency for decades to come.
For more information on this breakthrough technology visit: https://raychem.nvent.com/products/htv-self-regulating-heating-cable-0