nVent RAYCHEM TracerLynx is a state-of-the-art 3D heat management system design software. A singular and powerful platform, this turnkey solution includes full life cycle support ranging from front-end engineering and installation to maintenance and operation services.
Developed back in 2002 and first released in 2005 by nVent RAYCHEM's in-house team, TracerLynx software streamlines electrical heat tracing (EHT) system designs by allowing us to integrate all EHT designs into one concurrent global work-shared database. This saves customers time and money through project schedule reductions and optimized power distribution designs. TracerLynx interfaces with the customer's 3D master plant model data leveraging the benefits of the 3D model environment throughout the front-end planning, detailed engineering, procurement, construction, start-up and operation phases.
What makes TracerLynx great?
Singular platform
Change management
Heat mapping technology
Power distribution savings
Advanced work packaging
TracerLynx is designed to quickly identify the impact of piping and process changes, providing customers with a more efficient and accurate EHT system design, reducing Total Installed Costs and associated Power Distribution Costs.
TracerLynx is fully compatible with customer 3D modelling systems, enabling global work sharing through regional engineering teams with concurrent multi-user access and is a fully integrated single database system.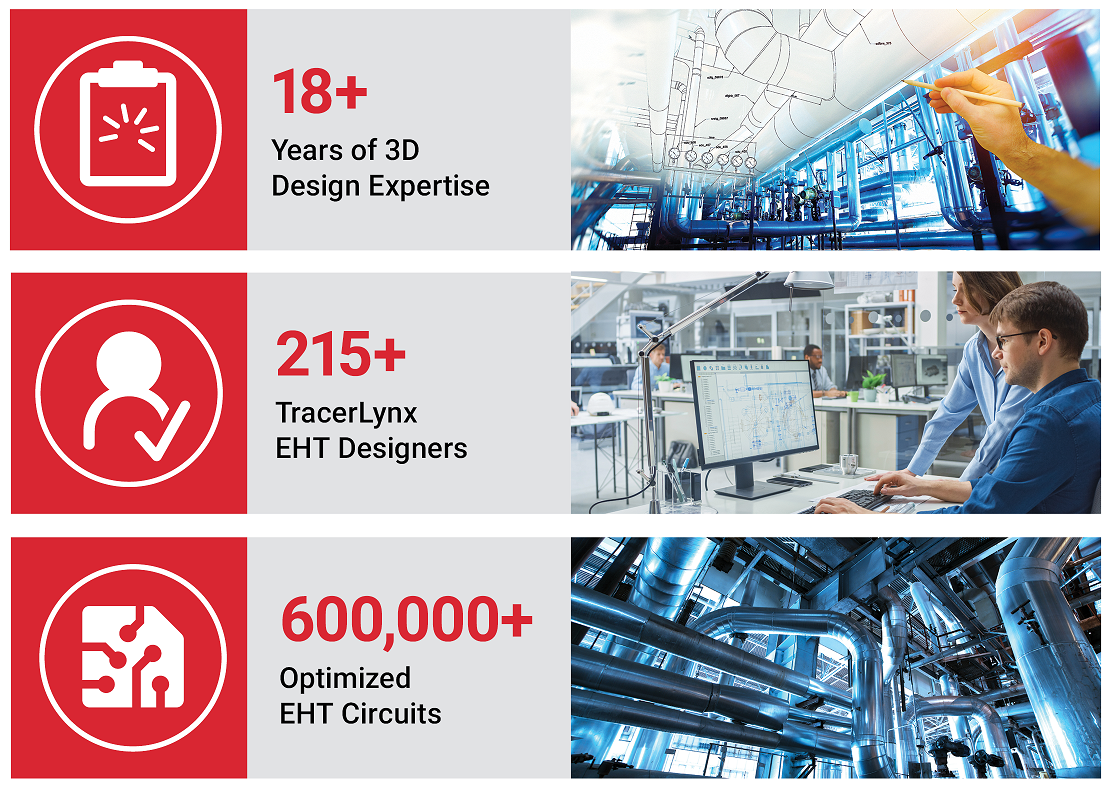 3D Plant Modelling Compatibility:
3D plant modelling

TracerLynx heat management system (HMS) software utilizes standard plant model component files to execute the HMS design directly from a customer's design data. The designs are fully integrated and aligned with the master 3D model data.

Fully compatible, fully integrated

Compatible with industry standard .idf and .pcf files
Renders EHT data directly from the master 3D model resulting in higher design and drawing accuracy
Identifies changes quickly and accurately
Single database ensures that all EHT design work is performed using the latest project data
Specialized functions support scope definition, estimating, pipe sorting and grouping, detailed engineering, material procurement, construction management, progress measurement and project controls reporting

Delivering value to our customers

Designed with the focus on helping customers manage and reduce project cost and risk, TracerLynx software reduces a customer's engineering workload and provides faster response to changes when they happen
Allows power distribution optimization during Front End Planning through definition of power load and locations early in the project
Use of model data increases the accuracy of deliverables, reduces a customer's document control costs and the time engineers spend reviewing drawings
Provides visual design accuracy and progress assessment
Change Management features allow earlier detection and faster response to changes as they happen throughout the project
Reduces cost through avoidance of idle labor and change orders as the heat tracing detailed engineering can be started later in the project when more accurate piping and equipment information is available
Want to learn more about nVent RAYCHEM TracerLynx?
Check out our website