The nVent RAYCHEM RIM system is North America's leading, high performance, aesthetically pleasing, concealed snow melting and de-icing solution, powered by nVent RAYCHEM self-regulating cable technology.
A typical roof and gutter de-icing system uses a visible zigzag of self-regulating heating cable to melt snow and ice along the roof edge. This method is effective but for many projects, the visible electrical cable can be seen as a drawback.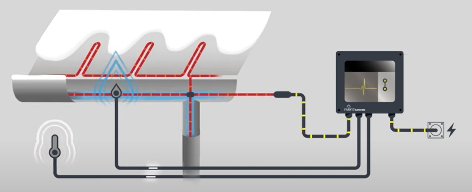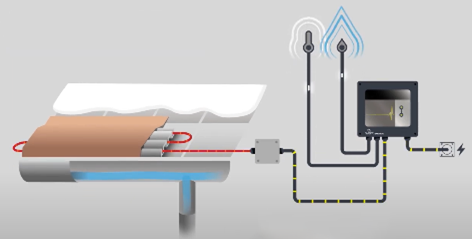 The RIM system conceals the heating cable and an extruded aluminum base beneath a color-matched, protective metal plate, that not only improves the aesthetics, it enhances the system's ability to evenly distribute heat throughout the treated area.
RIM Concealed Snow Melting Systems
There are many RIM systems to meet several different snow melting and de-icing needs.

RIM is a concealed roof & gutter de-icing system that features 3 runs of high-output self-regulating cable for heavy snow loads and extreme winter conditions. There are parts designed for eaves, valleys, c-channels, roof rakes, flat roofs, and standing-seam roofs
RIM2 is a concealed roof & gutter de-icing system that features 2 runs of standard-output self-regulating cable for medium snow loads and cold winter conditions with parts designed for eaves and valleys
RIM-Draintrace, or RIM-DT, is an ice melt system specifically designed for drains in commercial roofing systems. keeps the area around the roof drains free of snow and ice
RIM PMPH is a heating system designed for pedestal-mounted pavers. Ideal for raised patios and roof-top emergency access areas, this system ensures that elevated walkways and access points stay free from snow and ice.
RIM SMH is a suspension-mounted heating system that ensures metal walkways, stairs, catwalks, etc. are safe in any weather.
RIM WMH is designed to apply heat to window mullion, keeping snow, ice and condensation from obscuring the view through windows in cold conditions.
nVent RAYCHEM RIM systems are engineered to keep buildings operational and occupants safe in extreme conditions. RIM systems deliver consistent, high heat output along the entire length of heating panel during heavy snowfalls, high winds, and frigid temperatures. When you choose nVent RAYCHEM RIM systems, you are investing in the safety and operational security of your building in any weather!
nVent RAYCHEM RIM solutions are fully supported by the nVent Project Services team throughout North America. Our cross-functional team of engineers, project managers, and field service technicians deliver projects from concept through to design, delivery, execution, commissioning, and customer handoff. Project Services clients receive optimized solutions, reduced risk, expert product management, and the highest quality project outcomes.
nVent RAYCHEM RIM Facts
The nVent RAYCHEM RIM System is unmatched in performance, aesthetics, engineering, design, and support to protect the exterior of any building.
Contact an nVent RAYCHEM Expert today to talk about getting RIM for your next project!