Keeping Railway Systems Operational During Harsh Winter Conditions
Winter weather can pose major challenges to railways operating in cold weather climates. Freight railways strive to meet the needs of their shipping customers in the face of inclement weather that can include extremely cold temperatures combined with snow and ice. For transit railways, icy conditions can cause frustrating delays or line closures that can leave passengers stranded. Rail service outages caused by severe winter weather disrupts the flow of people and goods, and those resulting losses can negatively affect the entire economy.
nVent helps railways maintain service in harsh winter conditions with a range of solutions that effectively melt ice on switches and critical transit infrastructure, including contact rail and overhead catenary contact wire. This offering brings together core nVent capabilities that include the industrial heating expertise of nVent RAYCHEM along with the railway signaling and communication experience of nVent ERICO. Our comprehensive rail heating portfolio includes a variety of heating technologies, supplied with all of the required components, along with nVent heating system control solutions. In the following blog post series, corresponding with the winter months in much of the northern hemisphere, we will be highlighting various solutions from our rail heating portfolio.
New, Improved Heater for the nVent Flat MI Switch Heating System
The nVent Flat Mineral Insulated (MI) Switch Heating System is a proven solution for melting ice on track switches that features a flat constant wattage heater element. As a major part of the nVent rail heating portfolio, we have recently introduced a new and improved heater element to the nVent Flat MI Switch Heating System product line. This type of system is widely accepted in the rail industry, with the use of tubular electric heating elements in switch heating applications dating back several decades. The flat profile is an improvement over the original design as it covers more surface area on the rail web, providing an efficient heat transfer to melt snow.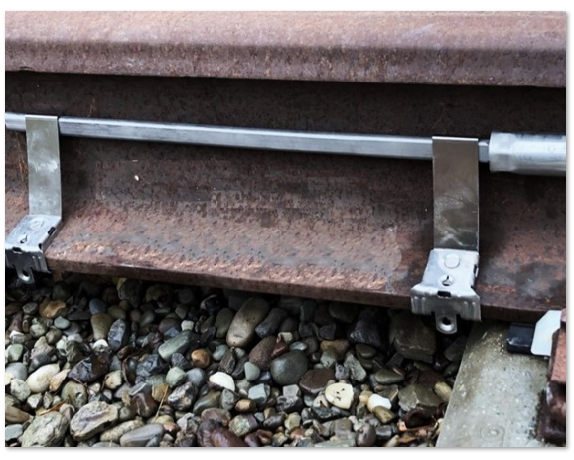 How nVent's System Stands Out
With our new and improved heater element, the nVent Flat MI Switch Heating System provides several advantages that improve performance, reliability, fit and functionality.
Better Fit – The innovative heater design features a unique flat profile (.340″ x .625″) that is wider yet shorter in height than competitive heaters. By occupying less height, the nVent Flat MI Switch Heating System heater element is an easier fit in tight spaces, such as in between the stock rail and wedge brace located at the entrance of the turnout.
Better Performance and Service Life – Equally important is the thickness of the heater element, which contributes to outstanding performance, quality and service life. The innovative dimensions of the flat profile heater element help the heater maintain contact with the rail for proper conductive heat transfer, as it's less likely to bow away from the rail. Due to this efficient heat transfer, the heater not only consumes less energy, it also runs relatively cooler minimizing the risk of track fires. It also contributes to improving reliability and longevity of the heater avoiding costly replacements and service interruptions.
Quality Testing – This American made heater element is among the best in class for quality and performance, built to the standards of the American Association of Railroads (AAR). A major factor in ensuring the highest quality ice-melting performance in service is the rigorous testing the heater element endures before it arrives at the job site. These tests include exposing the heater to the elements, like sunlight and vibration, as well as hydro-testing, where the heater element is fully submerged underwater and pressurized to ensure there is no penetration of moisture. After this procedure, the heater element undergoes a resistance check, insulation resistance check and dielectric test to ensure there are no deficiencies that will lead to a premature failure in the field. By offering a heater element that undergoes testing beyond typical pre-sale QC process, we help ensure that the nVent Flat MI Switch Heating System will reliably deliver snow-melting heat, and keep trains running,  even in the harshest winter conditions.
Versatility – Another advantage of the nVent Flat MI Switch Heating System heater element is in the versatility to meet a variety of electrical and engineering specifications. The heater element can be manufactured to operate at voltages up to 750V, allowing nVent to meet the needs of our customers who have different voltage requirements, some of which require 600V, 625V and 750V. The heater element can also be manufactured for AC and DC power, with design options to meet various wiring configurations, including single-ended (positive to negative, two-point connection) or double-ended (positive and negative for a single point connection). Finally, we can provide systems where the heater element wattage differs at various segments up to 500 watts per feet should the customer prefer higher or lower heat output in certain areas. Standard sizing of the heater element go up to 34 feet, however, we provide custom lengths over one hundred feet.
Want to qualify the nVent Flat MI Switch Heating System on your network? Put nVent rail heating systems to the test. It's not too late to set up a trial installation during these winter months ahead of the next construction season. Visit our rail heating system promotional site for more product information, and fill out the contact form to set up a trial.