The chemical industry is one of the key industries for the current global economy and is a very diverse industry.  It converts raw materials (oil, natural gas, air, water, metals, and minerals) into more than 70,000 different registered products in North America.  In 2021, the chemical industry supported over 25% of the U.S. GDP and generated $486 billion annually.
A strong chemical industry supports heat management opportunities for growth.
Why Temperature Matters in the Chemical Industry
Temperature plays a crucial role in chemical processes. It determines the rate of chemical reactions, the extent of reactions and the stability of compounds.  Many chemical processes are sensitive to temperature change and many processes require that a temperature range be maintained. For example, in the ammonia fertilizer industry, the Haber Process requires high-temperature process maintained along with a catalyst and pressure.
Heat Management System in the Chemical Industry is a Complete System
A heat management system (HMS) is much more than just a heating cable. A heat management system is an engineered system designed to maintain process piping, equipment, vessels and instruments at predetermined temperatures and within defined design criteria.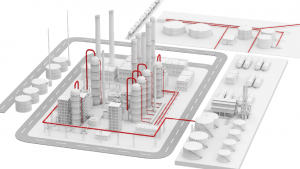 A Complete Heat Management System in Chemical Industry includes:
Engineering and design – a well-designed system, including process maintenance and ambient temperature ranges, insulation data, adders, safety factors, voltage values, etc.
Electric Heat Tracing Cable – properly selected electrical heat tracing cables that come in a wide range of technologies; including self-regulating, power limiting, series resistance, mineral insulated and skin effect tracing systems.
Connection kits and accessories
Temperature sensing devices
Power Distribution – providing the most efficient power management.
Control and Monitoring Systems – the most effective solution for balancing total installation cost (TIC), total operating cost (TOC) and long-term lifetime benefits of the entire heat management system.
Supervisory Software
Insulation and cladding
Instrument Winterization
As Chemical Plants are challenged by environmental, social, and governance (ESG) considerations, Heat Management Systems can play a key role in keeping processing plants operating efficiently.
Complete turnkey heat management systems support process temperature maintenance in the chemical industry; supporting their objectives of quality, safety and cost competitiveness.
For more information, download our nVent RAYCHEM Heat Management System for Chemical Plants infographic.