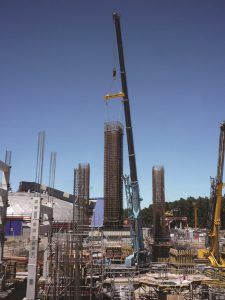 Challenges of traditional rebar replacement
The traditional method of rebar placement involves tying individual bars into place, using scaffolding for support and cranes for moving bundles of rebar to the fixing location, posing safety concerns for iron workers installing on elevated platforms. It also leads to longer construction time as workers are required to off-load loose cut and bent-steel rebar from a truck, before bundling them for the crane. The inefficient use of man-hours is dedicated to reading drawings, organizing schedules and tying cages together – requiring highly-skilled iron workers to perform labor at a higher cost.
Pre-fabrication provides solutions to problems that traditional rebar placement presents
In order to reduce construction time, lower project costs, and keep workers safe, prefabricated rebar cages (PRCs) are built in fabrication yards on site, or in a remote location and then transported to the jobsite. These innovations have the potential to dramatically accelerate construction schedules and reduce fabrication costs while also allowing for more reliable quality control.
Studies show that using PRCs results in an avg of 22.2% savings on total column cost; 20.4% savings on total project time period, and 33.3% savings on columns construction time period.[1]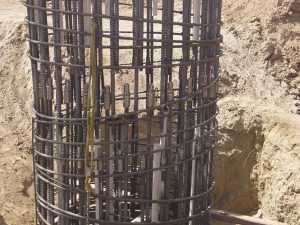 Prefab Benefits
Save time
Prefab cages can be delivered to site and dropped into place within a tenth of the time it takes to manage loose cut and bent steel.
Simplify the re-detailing and cage manufacturing process by catching any errors in the drawing and resolve issues of missing bars or over-crowding prior to the reinforced steel arriving on site.
Increase site accuracy and speed during the checking process by ensuring dimensions of prefabricated cages prior to lifting them into position and correct diameters of loose bars prior to fixing them in place.
Cost efficiencies
Reduces the required crane operation time, saving crane rental costs by doing prefab work on the ground.
Rather than require skilled laborer's to select the correct bar bundles and follow a set of detailed drawings, cages can be placed by simply following a numbering system on color-coded layouts, allowing most prefab projects to be handled by one skilled fixing foreman with a group of supporting laborers.
Improved safety
Since most of the rebar placement work is done close the ground, cages are lifted in to position by crane so there is no heavy lifting required by the laborers.
Eliminating the need to tie bars together keeps the site clean of stray bars and pieces of tying wire, while also requiring fewer workers moving around on a congested job site.
Achieve Full Strength from nVent LENTON
A critical aspect of extracting value from prefabricated cages is having an efficient and reliable method of connecting individual cages. Mechanical couplers (typically threaded connections) are the preferred method for connecting PRCs due to their efficiency in providing load path continuity through rebar, stability of placed rebar due to a rigid connection and steel savings due to the elimination of overlap in bars.
nVent LENTON Ultimate utilizes a high-efficiency parallel thread that provides "full strength" in tension, compression and stress reversal applications, while also providing positional adjustability. The nVent LENTON self-aligning taper-thread reduces misalignment issues and helps eliminate cross-threading during installation.
The newest product is the nVent LENTON Ultimate Hybrid Coupler. When used in conjunction with LENTON taper-threaded rebar, bars are easily aligned, while allowing for positional adjustability.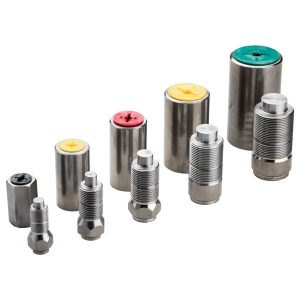 References:
1. "Economic Evaluation of Reinforced Concrete Structures with Columns Reinforced with Prefabricated Cage System", Shamsai, Whitlatch and Sezen.