One of the best ways to draw more women to an organization is to highlight the women you already have on your team – and bring them together, so they feel supported and can connect with their peers. This is especially important for women engineers due to a lack of representation. Globally, only 16.5% of engineers are women and, in the U.S., less than 25% are in the fields that are most common for nVent as a manufacturer:
Industrial engineers – 24%
Chemical engineers – 18%
Civil engineers – 17%
Electrical engineers – 10%
Mechanical engineers – 9%
To increase the number of women applicants for engineering roles at our sites in Solon, Ohio, the team took an innovative approach and unleashed a secret weapon: 12 women engineers. Organized by HR Manager Kim McCoy, the Solon women engineers' cohort was established last November to share insights, work together and embrace the challenge of attracting hardworking, inquisitive women like themselves.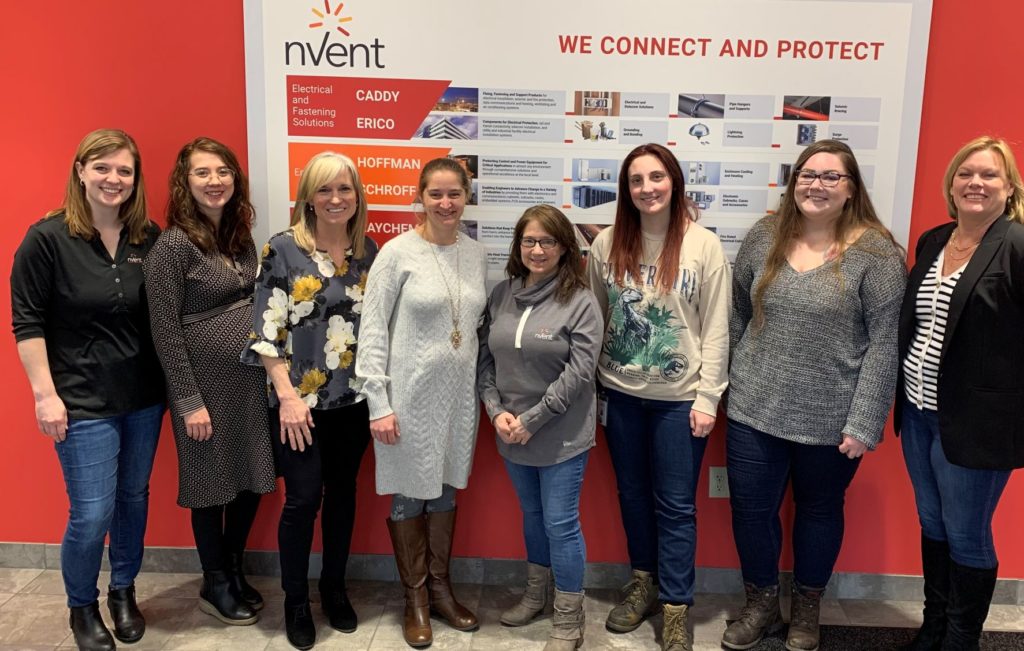 From left to right – Marianna Palmer, Jenny Debniak – , Nathalie Rutledge, Kristen Sermersheim, Emmy Birli, Katie Besselman, Rachel Scheer, Kim McCoy  Not pictured – Erika Buehman, Kristen Lapeus, Jess Wike, Caitlin Klabunde and Esther McCartney
"It's exciting to get the group together and think about ideas," said Product Marketing Senior Manager Kristen Sermersheim. Kristen and other engineering women recently hosted the nVent booth at career fairs at Solon-area universities. "The community outreach is really nice. We're focusing on the local area, including the universities some of us came from, and building excitement and awareness to help recruit those engineering students."
"The all-women recruiting team at a recent job fair made a difference," Applications Engineering Manager Jenny Debniak said. "Compared to the tables from other companies, we had more women candidates stop by because we're representing women in engineering, and the energy is warm and inviting."
The cohort is working beyond career fairs to raise awareness of engineering careers at nVent and our brand. During National Engineers Week in February, Manufacturing Engineer Kristen Lapeus hosted a talk with the society of women in engineering at Akron University. They are also thinking about ways to better attract and hire women engineers at all levels. "We talk a lot about diverse candidate slates, but diverse interview panels are really important in helping hire women," Technologist Erika Buehman noted. "If we want to show that we're welcoming women candidates, we need to showcase the women we already have at nVent."
Product Marketing Manager Nathalie Rutledge joined nVent 11 years ago after holding engineering roles at other companies. "There were times in this male-dominated industry when it was lonely. It's very inspiring to see how many women engineers we have at nVent. It's our duty to build upon it and increase our path forward, and to make sure people in the engineering society are attracted to nVent."
The cohort is making a difference in recruiting efforts as well as creating stronger bonds among the women engineers in Solon. Global expansion is the goal, but we're grateful for the progress made so far.
At nVent, people are core to our business. We have a goal to increase the representation of women in management across the company by 20% by 2025. We believe our culture is a differentiator and fosters an environment where our employees can bring bold ideas, be authentic and build the future of a more sustainable and electrified world. We celebrate diversity and are proud of our culture of inclusion.
Join our team! Visit our Careers page to explore our open engineering roles and learn how you can bring bold ideas, be authentic and build the future of a more sustainable and electrified world.