Shot-fire brackets are a quick and easy way to attach services to concrete walls or ceilings. Although there are many options on the market, the extensive nVent CADDY direct fastening offering is designed to simplify the installation process by allowing them to be installed with different tool types or brands, and by being available pre-riveted to a variety of nVent CADDY fasteners.

1. Compatibility with Different Nail Gun Types
Shot-fire brackets are installed with a nail gun. However, there are several different types of guns on the market, depending on the propellant used to fire the nail into the concrete. The type of nail guns to use depends on several factors: the applications, the hardness of the concrete/structure etc.
nVent CADDY direct fastening solutions offers a wide variety of options that can be used with all of the popular nail gun types: powder-, gas- and battery-actuated [see table below]. This makes contractors' life easier by allowing them to choose the right solutions for their applications.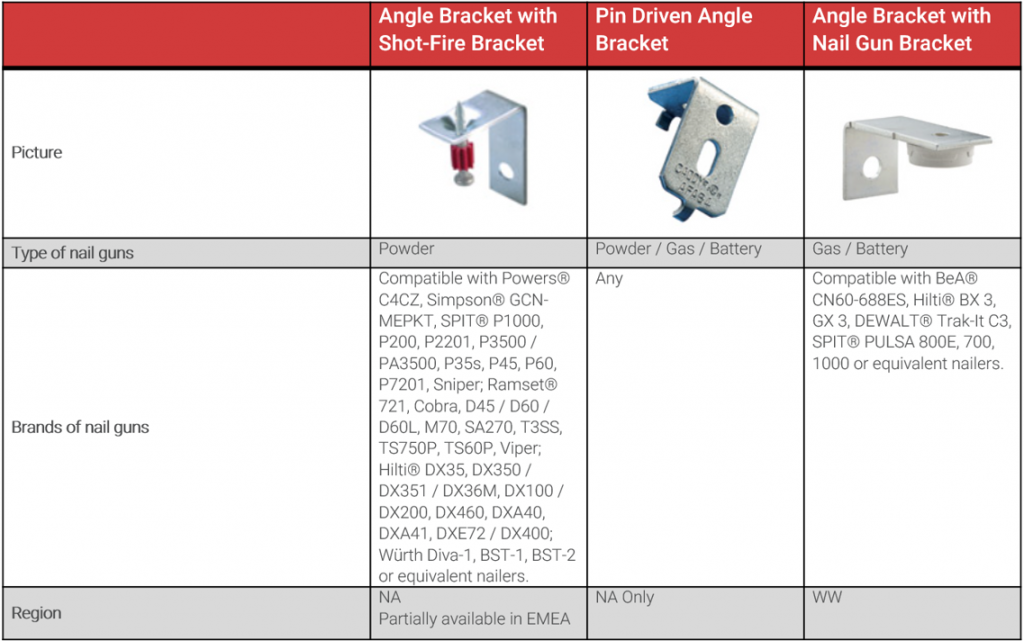 2. Compatibility with Different Brands of Nailers
The arrangement of the pin and geometry of a bracket or insert can make them only compatible with a specific nail gun brand. However, the nVent CADDY parts are designed to have the clearance and the geometry that allows them to be installed with a majority of popular brands of nail guns on the market. This simplifies the installation on the job site by not requiring a specific tool and giving contractors the freedom to choose the solution or nail gun that fits their need.
3. nVent CADDY Fasteners
nVent CADDY shot-fire brackets are unique in that they are available riveted to a wide variety of spring steel fasteners and wire hanging solutions. The shot-fire pin is quickly installed into the structure, and the service is easily snapped or attached to the fastener or wire rope, multiplying the time savings. Contractors around the world are familiar with nVent CADDY fasteners, so the installation is quick and intuitive.
Conclusion
nVent CADDY direct fasteners are designed to simplify installation, making projects easier and saving contractors time and money. Products are available for a variety of applications. View the brochure to learn more.