Any time installation is performed with arms raised above a worker's head, additional time and risk are added to the project. When you look at OSHA's list of the most frequently cited violations, four of the 10 involve injuries related to overhead work.
On the job site, ladders and lifts are so common that it's easy to forget the risks involved in using them. In fact, OSHA estimates that for general industrial construction, falls from ladders account for 20% of all fatal and lost workday injuries.
How can contractors save time on tricky ceiling installations while also lowering the risks associated with dangerous overhead work?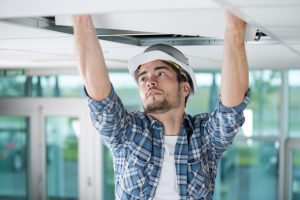 Limit Time Spent on Overhead Work
While using ladders onsite is often inevitable, reducing the amount of time spent performing strenuous overhead work can be easily achieved. Designed with the installer in mind, nVent CADDY offers an efficient and innovative solution with the introduction of the 512SA T-Grid Box Hanger.
As an out-of-the-box, easy-to-install option, the new 512SA T-Grid Box Hanger features pinch tabs to easily snap in and slide to adjust and accommodate multiple electrical box depths and acoustic ceiling tile reveal options. The simple tool-free installation takes seconds—simply slide the bar to alter spacing and use the push-button feature to adjust for height. The 512SA T-Grid Box Hanger's adaptability eliminates the need for extra tools and hardware while reducing complexity and time spent on a lift or ladder.
Robust Solution for Challenging Ceiling Installs
nVent CADDY's 512SA T-Grid Box Hanger is versatile, adaptable and simple to use. With end clips that securely attach to the T-Grid, installers can confidently pull wires without fear of rattling loosened brackets in exposed ceilings.
The bar adjusts to accommodate convenient T-Grid spacing options of 12", 24" and 48" and offers enhanced adaptability to support varied ceiling reveals and acoustical fastening and controls with its ability to fit the market-leading range of electrical box depths.
Looking for complementary premium fixing and fastening solutions to speed up your next ceiling installation? nVent CADDY offers a robust, expanded series of 512 products designed to complement the benefits of our new T-Grid Box Hanger while providing all-encompassing assembly. Whether you're looking to add multiple boxes with our 512X Electrical Box Mounting Clip or install a complete ceiling fire protection system with our Fire Alarm Box, contractors can trust CADDY to provide safe, fast, and easy solutions for their everyday needs.