Telecommunications companies play a large role in our day-to-day lives. Cellular networks provide voice and data communications for business, emergency services, staying in touch with friends and family, browsing social media, staying up to date on the latest news and more. With the arrival of 5G technology, many more industrial applications will begin to depend on cellular networks. This may include security and surveillance applications, smart power utility grids and water and gas leak detection. For individuals, telecommunications network security advances could also mean more smart wearables, driverless cars and other novel applications.
The grounding system is one of the most important components of a telecommunications facility. Grounding and bonding systems provide a preferred path to ground for lightning strikes, protecting telecommunications infrastructure, equipment and workers across the globe. When lightning strikes a well-grounded cell tower or other piece of equipment, the bulk of the electrical currents pass through the tower steel, grounding conductors and ground electrodes on their way to the ground instead of passing through sensitive equipment that could be damaged. This preferred path also keeps high-voltage electric currents away from people.
Cutting Costs in A Challenging Environment
Two large telecommunications companies in Australia determined they needed to cut their overall cost of doing business. The telecommunications industry is competitive because of rapid technology development and the cost of that technology dropping once it is replaced with something new. Providers face extreme pressure to compete in both cost and performance.
The telecommunications companies believed that making some design changes could increase effectiveness and save money without negatively impacting level of protection or customer experience.
The old grounding system used a copper tape system with copper bonded ground rods and copper conductors. In these tape and cable systems, a flat copper tape served as the underground conductor. Stranded copper cables connected that tape to telecom shelters, cabinets, fence posts and towers. This system had served the companies well for many years and did a good job of protecting its equipment.
Tape and cable systems offer good flexibility and conductivity, but that flexibility and the shape of the tape can also hinder installation. This is because the tape sags into the trenches during installation, making it hard to work with, and sometimes it has to be twisted to make certain connections.

While the majority of the telecommunications cell towers and facilities are in cities and the suburbs, these companies also had a significant number of sites in country towns and the outback. The outback or bush locations in Australia can be challenging to work in due to their distance from metropolitan areas and extreme weather conditions like high temperatures and sudden rain. These conditions can make the repair time at outback sites very long.
In addition to difficulties with the installation of copper tape, the telecommunications companies faced additional costs and nuisance because of copper theft. While copper is by far the best grounding conductor, it is a valuable raw material. This makes copper grounding components frequent targets for thieves, who strip conductors and bars off cell towers to sell the metal for scrap. When thieves damage grounding systems, they leave cell towers exposed to damage from lightning strikes and networks at higher risk of interruption. Stolen grounding equipment can endanger telecommunications company workers and disrupt customer cellular service.
A Labor-Saving Solution
The telecommunications companies had worked with nVent products before, and turned to nVent to engineer a new grounding system that would be lower in cost, easier to install and provide the equivalent level of performance across a wide range of conditions including in a harsh environment.
nVent engineers piloted a new grounding system that replaced the copper tape with nVent ERICO Cu-Bond Round Conductors, copper-bonded steel conductors (CBSC). Additionally, nVent manufactured the CBSCs in 4m lengths and packed them in tubes of ten to make it easy to ship to sites and to carry on top of Utes—the vehicles contractors drive to job sites. Contractors connect the conductors at sites to form rings which are attached to the rest of the grounding systems and buried in the ground. These CBSC conductors are flexible enough to bend by hand, but because they are stiff instead of floppy tape, workers can lift the entire system as one unit or in parts and prop it up outside of the trench. Workers can install most of the system without bending down into the trench.
"We had the copper bonded steel conductor available to us as a product, but more work was needed to make it feasible by producing it in pre-straightened form and designing and trying out the connections and the installation in real life," says Rohit Narayan, nVent Director of Global Telecom.
Switching from conductive tape to conductive rods was a small innovation, but it paid off tremendously. Site technicians confirmed that the installation time on one telecommunications company's sites dropped from around two hours to less than one hour.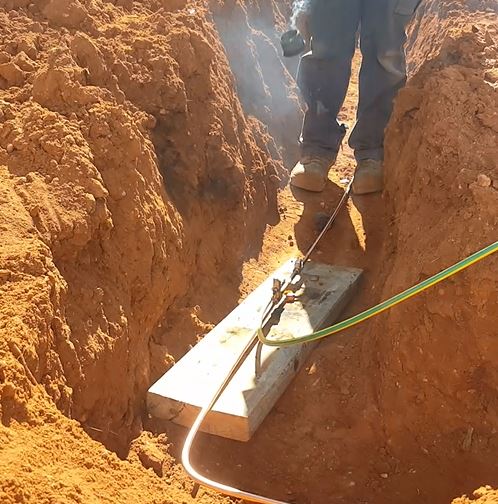 nVent engineers observed that the nVent ERICO Cadweld molds, made of graphite and used to make the connections between grounding conductors, lasted longer with the CSB conductors than the conductive tape because the rounded rods are more gentle on those molds than the tape's sharp edges. The quality of connections throughout installation was also better than on copper tape systems. Furthermore, the grounding system using CBSC achieves the same ground resistance values as copper tape systems and all the connections and conductors meet a reputable standard like IEC or IEEE. The relative life of CBSC in a wide range of soil conditions is 30-40 years. This is significantly longer life than other non-copper alternatives like galvanized steel.
The nVent ERICO system was easier to install, reducing labor costs, and the materials themselves were cheaper, because the cost of CBSC is lower than copper tape due to its steel core.
Adding Theft Protection
nVent also provided a stranded theft-deterrent cable, nVent ERICO Cu-Bond Composite Cable, to connect underground ground electrodes to towers, fence posts and ground bars. The steel strands on the outside of the theft deterrent cable give the cable the appearance of steel wire, which is unattractive to copper thieves. The outer strands of the cable are also magnetic, fooling thieves who test cables with a magnet to see if it is steel or copper. Even if more-resourceful thieves were to discover that there is copper on the inside of the theft-deterrent cables, the amount of copper inside would not be worth the effort of separating out the strands.
In addition to protection against manmade threats, the new system is easier to install and provides a long life and equivalent performance to the copper tape system across a wide range of environments including the bush. This reduces installation and maintenance costs because the companies do not need to repair them as often as the old systems.
Customers in the telecommunication industry see grounding systems as a critical parts of their installations as they protects the sites from lightning, high noise and electrical shock hazards.  With new systems in place, two telecommunications companies can now provide strong, reliable service to their customers while keeping costs low.