A Message from CEO Beth Wozniak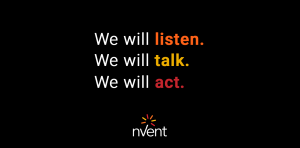 Across the U.S., there is outrage about the tragic deaths of George Floyd, Ahmaud Arbery, Breonna Taylor and countless others due to decades of systemic racism and injustice. Countries around the world sympathize with this view. It's important to take a stance, and I want to share our view with our customers, channel partners, suppliers and communities.
At nVent:
We stand with the Black community, with all people of color and others who feel marginalized.
We stand against inequality and injustice of any kind.
We will not tolerate racism in any form.
nVent is a new company, and inclusion and diversity has been a priority and a cornerstone of our culture from the start. We actively welcome each individual's uniqueness, ensuring our voices are heard, respected and represented. We have created councils and Employee Resource Groups, because inclusion is who we are and what we stand for. We are early in our journey, but making an impact.
We are establishing listening circles to create a safe space for employees to share their stories and to start these important conversations at nVent. We are organizing ways for our employees to get more involved in our communities through our nVent in Action program. We are committed to ongoing efforts to combat racism.
We cannot remain silent. I'm asking our employees and leaders to participate in important conversations that need to happen both at work and in our communities.
We will listen. We will learn, we will act and we will emerge stronger, together.