The need for efficient, sustainable and reliable global energy storage is growing daily due to the increased demand for renewable energy production and the electrification of both the demand and supply side of utility infrastructure. As a result, key concerns for utilities and OEMs include finding a solution that offers a compact and efficient design.
nVent ERIFLEX offers the necessary products and engineering support to specify and build a complete range of solutions for energy, transportation, construction and applications where low voltage power storage and transmission are critical. Our engineering team brings years of experience and expertise to every project, and will be with you from start to finish to advise on:
Standardized and customized product solutions
Global standards compliance
Engineering and prototype installation support
Post-installation support
What are the biggest barriers to the success of a project? Are there products or solutions to make installation easier? nVent ERIFLEX provides a robust solution to maximizing power and components in tight, compressed spaces using products that are safe, reliable and have a lower cost of implementation. nVent ERIFLEX also offers solutions such as Compact Adjustable Busbar Supports (CABS) which allow for standard components to be installed in an off-the-shelf design, saving engineers overall design time. Read on to see examples and learn why you should consider nVent ERIFLEX custom engineered solutions for your next project.
nVent ERIFLEX Flexibar and ISBS Braids as an Alternative
nVent ERIFLEX Flexibar and IBSB Braids are a preferred alternative to traditional cable and lug connections as they offer design flexibility, safety and labor savings.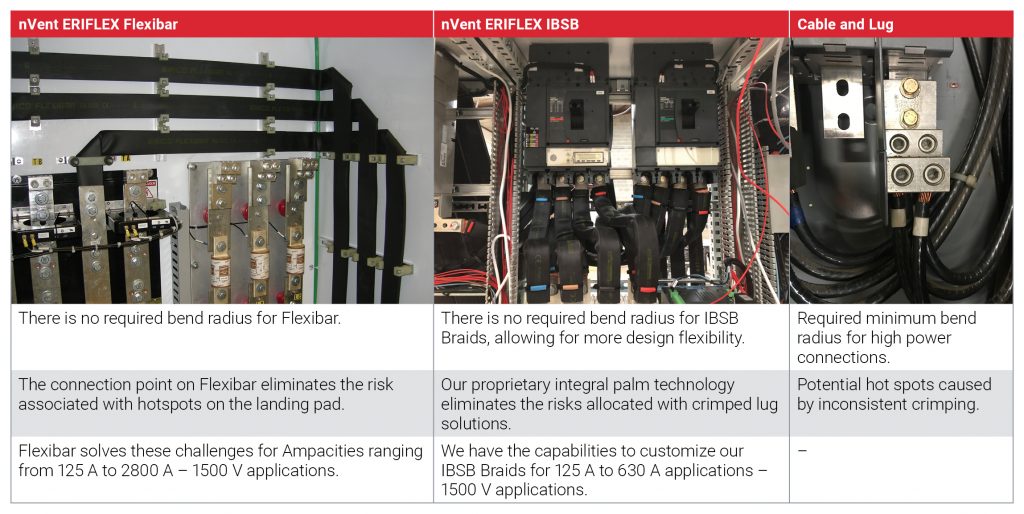 nVent ERIFLEX Flexibar as an Alternative
nVent ERIFLEX Flexibar delivers a stronger offering compared to rigid due to its design flexibility and lower cost of overall implementation.

Design Flexibility, Ideation and Prototyping

nVent ERIFLEX has a dedicated design team working closely with our customers on these obstacles at every stage of the process—from engineering design reviews and prototyping to manufacturing setup that allows for scale-up based on a customer's forecast.
When a new or existing customer comes to nVent ERIFLEX with a project and request for engineering, our team spends time investigating the application and design intent while researching additional solutions. From there, our in-house engineering team comes together to validate the design before prototyping.
If possible, our team will come on-site to try different solutions during the prototype stage and work with our customer to test designs and installations before settling on a final solution—ranging from a custom-engineered design using off-the-shelf components to a customized product package.
Customized Product Packages with Reliable Products
Trusted nVent solutions include nVent ERIFLEX FleXbus, nVent ERIFLEX Advanced Flexibar and IBSB Braids, all designed to meet your most challenging panel design and production requirements. Custom solutions include:
Custom hole patterns
Custom conductor lengths for power or grounding/bonding connections
Customized integrated solutions using standard off-the-shelf products such as our busbar supports, insulator, power blocks and flexible conductors.
nVent ERIFLEX offers a line of proprietary flexible conductors and supports, power and distribution blocks, as well as grounding braids that can be integrated within a panel to form a total low voltage power distribution and grounding system.
Compared with traditional cable wire, nVent ERIFLEX conductors are low profile, lightweight, flexible and connect via an integral palm design that is easier to install and more reliable than a traditional cable/lug connection
nVent ERIFLEX Advanced Technology insulation is low smoke, halogen-free and flame retardant, meeting key standards and performing safely at high temperatures.
Supporting Customers from Design to Manufacturing to Ongoing Maintenance
nVent ERIFLEX offers worldwide, high-volume manufacturing of these customized product solutions, with local warehouse stocking in your region. Not only will the team help with engineering and ordering, but we will also remain on the project through installation and ongoing maintenance.
For upfront and ongoing training on nVent ERIFLEX, we offer lunch and learns, engineering webinars and virtual presentations regarding our product offerings and benefits. In addition, our technical team can be on-site to perform application specific training. Schedule a training today.
Want to get started on a new project or just have questions about nVent ERIFLEX?
CONTACT US