Samuel P., Estimator, India
"Boundary-breaking projects can be the most satisfying of all."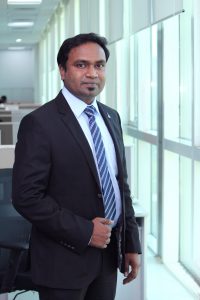 "Boundary-breaking projects can be the most satisfying of all," said Samuel.
Samuel is the lead proposals estimator for nVent's Thermal Management segment in the Middle East region. He and his team are responsible for understanding customers' needs and rendering those into a project proposal, complete with cost. Winning the contract can be a complicated process.
"Last year, we were quoting for a specific requirement from a client in Egypt," Samuel recalls. "It was quite big. And it was very challenging because the client's requirements were very stringent and the specifications were outside what we normally follow."
So Samuel tapped into the expertise and experience of his global colleagues.
"It was a collective effort of co-workers in the Middle East, India and Europe," he says. "Winning the project showed that no matter where we are, we can work as a team."