The nVent CADDY Telescoping Strut Replacement (TSR) is an innovative alternative to using strut-based trapeze or support structures and accommodates standard strut-based fittings. This tool-free solution eliminates the need to handle long lengths of strut and cut sections of strut to size. The bracket telescopes to the desired length (between 12-20"), attaches to the threaded rod, and is locked in place by snapping closed a spring steel retainer clip.
Understanding the Four Types of TSR 1220
The nVent TSR1220 comes with four different variations of hardware on the ends, standard (TSR1220/TSR122025), retrofit (TSR1220R), nVent CADDY Rod Lock (TSR122038RL) and no hardware (TSR1220N) options. Each type helps in specific situations. Understanding the options and choosing the best hardware are essential when selecting which variation to use for a job. Refresh your memory by reading our blog about the four types of TSR1220.
Your nVent CADDY Telescoping Strut Replacement Questions, Answered
Q: Will any strut fitting fit into the channel? The TSR is compatible with all common strut fittings with the exception of ½" strut nuts.

Q: Can the TSR support greater than 2" pipe or conduit? The TSR is designed to support up to 2" pipe or conduit so larger diameters are not recommended. Larger diameters would need engineering approval and would be limited to a quantity of one pipe making it more practical to use individual loop hangers on a single threaded rod.
Q: Can the TSR be installed upside down or open side down? For some variations, the TSR can be installed open-side down; others cannot.
TSR1220R and TSR1220N can be installed in any orientation with nuts below to support the channel.
TSR1220 & TSR122025 with rivet nuts can be installed channel down when used in combination with square washers and hex nuts or simply with SNSW37 underneath to support the load. The load must not be supported by the rivet.
TSR122038RL with nVent CADDY Rod Lock must not be installed channel down.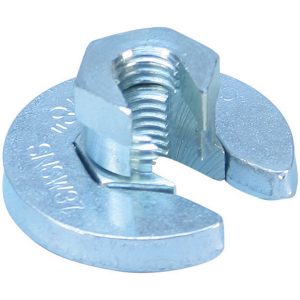 Q: Does the retainer strap have to be used? Yes, the retainer strap is required to secure the bracket at the desired length. Can the retainer strap be moved? Because the bar has slots that guide the strap into place, the retainer strap functions most effectively in its original position. However, it can be moved within 1" of the original location in either direction.
Q: Is TSR1220 strong enough for my applications? The TSR can be used in a wide range of applications, for up to 300 pounds of load. Additionally, the TSR1220 used with one SMS8 screw has been tested per FM1950 to establish the capacity to withstand side loading due to seismic compliance criteria.This is how strong the TSR1220 is!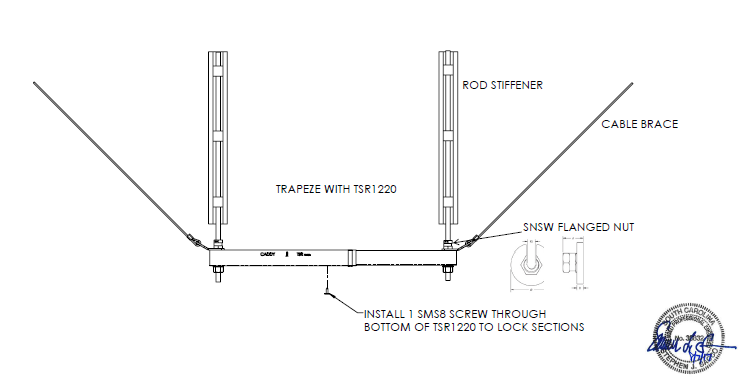 Q: Is TSR1220 long enough for my applications? Yes, the TSR telescopes from 12 to 20" (distance between the supports (threaded rods or wire) which is more than enough for most light and medium-duty electrical and mechanical application. For example, this length allows contractors to support an 18" wide basket tray, up to 23x 1" EMT conduits (top + bottom – see below) or up to 6 2" Sch 40 pipes.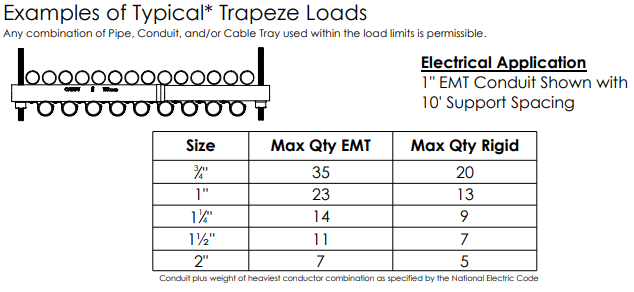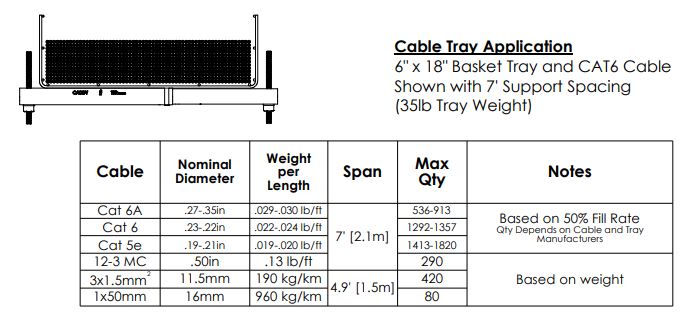 Q: Is TSR1220 more expensive than strut? Strut might seem cheap to buy but when you take the handling, storing, transporting, cutting and deburring costs and installation time into account. But, it is actually more expensive than our ready-to-use, out-of-the-box TSR solutions. (Think about it, five minutes at an hourly wage of $60 is worth $5.00! How much time do you or your team spend preparing strut when you could be just installing?)
Q: Can the TSR1220 be supported with cable? Yes, the nVent CADDY Speed Link SLS3 Locking Device is compatible with the TSR1220N version. In order to make this even simpler for contractors we  created a specific part number with everything you need in it: TSR1220SLS3. The hook end-fitting crimped on the cable allows contractors to fix it on pretty much any type of structures (loop it around an I-Beam, hook it to concrete screw or any other type of nVent CADDY Fasteners with a hole).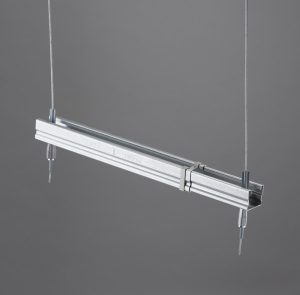 Want to see for yourself what the nVent CADDY Telescoping Strut Replacement product family can do? Watch our TSR video or visit our product page.