nVent CADDY continues to create innovatively designed products that simplify installation. Our latest product in the Datacom family is the nVent CADDY Low Voltage Accessory Clip (LVAC). This small clip makes a big impact as it becomes critical for buildings to accommodate a growing amount of wire and cable – specifically in low voltage applications, such as security, video, fire, Wireless Access Protocol (WAP) and Power over Ethernet (PoE).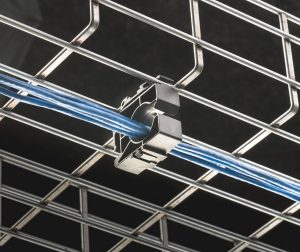 However, as the need to accommodate more cable increases, the amount of space in a ceiling does not. The LVAC provides a safe and effective way to isolate and secure structured cabling to existing cable tray pathways. This enables contractors to alleviate an overcrowded cable tray without rethinking the existing pathway. It is engineered to fit a commonly available wire basket tray with bottom and side mount applications and the low-profile design makes it easy to install in tight spaces. No tools are needed, and installation is made easy with side retaining flaps.
The nVent CADDY Low Voltage Accessory Clip is the newest product to join nVent CADDY Spring Steel, nVent CADDY Universal Tray Support (UTS), nVent CADDY Telescoping Strut Replacement, nVent CADDY Wire Basket Tray and Support and with the addition of the WBT product line, nVent CADDY is able to offer a full, innovative solution for Data Center and Network Solutions (DNS) and cable pathway management.
Datacom and low-voltage installations require specialized support products that help you improve efficiency and safety while saving money over the life of the project. In addition to the ease of installation, the LVAC is compliant with TIA requirements for PoE cable separation.
Conclusion:
When there is no other pathway for the growing amount of cable that must be accommodated in a building, the nVent CADDY Low Voltage Accessory Clip (LVAC) is the answer. It's safer, with tool-free installation, faster, connecting to an existing basket tray, and easier accommodating more cable on an existing path. Increase your cable routing and hanging options with the Low Voltage Accessory Clip.