Doing Work the Right Way for More Than 60 Years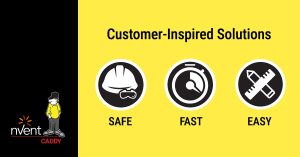 Since 1956, contractors, architects, engineers and distributors have trusted nVent CADDY for quality fixing, fastening and hanging products. nVent CADDY is there for customers through every step of the job, from design to installation to inspection. nVent CADDY products are designed to be safe, fast and easy to use, and undergo extensive development, testing and certification to adhere to the correct requirements.  nVent CADDY products are available for a range of applications including electrical, datacom, fire sprinkler, mechanical, HVAC, plumbing, rooftop and seismic bracing.
Built for Projects, Designed for People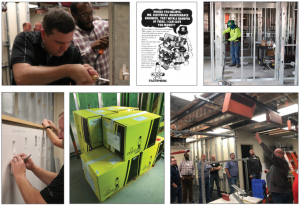 nVent CADDY was founded and is based in the United States, but has a wide global footprint with manufacturing plants throughout the United States, the Netherlands, France, and other regional hubs. For decades, our product development team has worked with contractors on job sites to understand their challenges and frustrations. The team then applies these observations, developing solutions fitting contractor needs, including ways to reduce time, increase ease of and overall installation. nVent CADDY also offers training opportunities through the year for customers, walking through product installation and benefits. Download the nVent CADDY Brand Overview to see more of the process the nVent CADDY team goes through for each product from manufacturing to your jobsite. 
Your nVent CADDY Man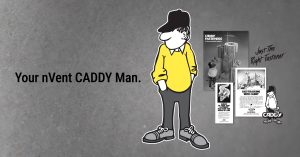 While the CADDY Man has had a few transformations over the years, he still wears his trademark yellow shirt, has his hands in his pockets, and works smarter and safer – waiting on the rest of the job site to catch up to his job well done. He's an installer, just like the people who use the same, time-saving nVent CADDY products! See more of the nVent CADDY Man through the years in the brand overview.
Customer-Inspired Solutions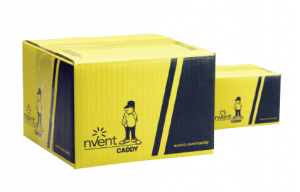 nVent CADDY's team of experts take the time to create solutions with the customer and their challenges in mind, as well as trends in the current market. Hours of research, product development
and engineering goes into the nVent CADDY products customers know and love. nVent CADDY products help customers solve problems by creating solutions for their biggest obstacles. nVent CADDY products solve for these challenges and more, while being engineered to be safe, fast, easy.
Ready to learn more? Download The nVent CADDY Brand Story now!