The Data Center and Networking Solutions (DNS) market is a booming one, and to address these market trends, nVent CADDY acquired WBT in February 2020. WBT is a manufacturer of wire basket tray and accessories located in Centralia, Illinois. The innovative wire basket tray offering is complementary to the nVent CADDY fixing and fastening portfolio, rounding out a full solution for DNS applications and cable pathway management.
WBT's products offer innovative solutions with lightweight cable tray products, designed to spread the load of cable, allowing for optimal cable performance. WBT shaped crosswire eliminates cable stress by increasing the support of the cabling. It still offers the same functionality of wire tray to cut and configure, and utilizes the same splicing and mounting hardware.
Shaped crosswire was created to address the issue that a round crosswire supporting a round cable offers very little surface area support. When you add additional cables, the weight creates a pressure point/strain on the cables within the tray. What WBT has pioneered is a design utilizing shaped crosswires, which increases the support of your critical cabling.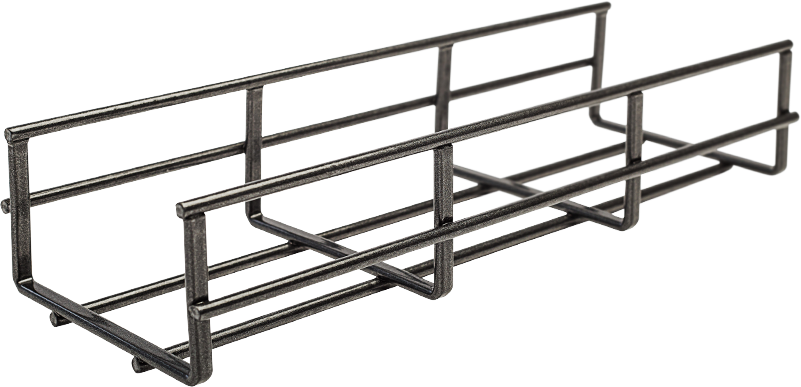 WBT Product Offering Benefits
nVent CADDY's new wire basket tray offering provides:
A minimum 400% increase in cabling support
Up to 65% reduction in cabling pressure/strain
Premade, time-saving intersections
No premium over old round wire crosswire
Several easy-to-install configurations and finishes to fit your job site
WBT Product Offering Overview
WBT offers 2"- 12" deep tray options, with widths up to 44", and can be finished black, electro zinc plate, standard powder, stainless or in a custom finish. WBT also offers several innovative fittings and accessories.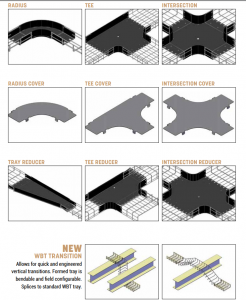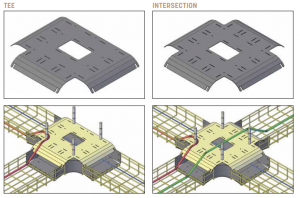 PreForm attaches at intersections, tees and junctures for radius bend with no cutting or configuring.
WBT Bridge makes routing cables in different directions easy by separating them into their respective orientations without overlapping cables.
Several finishes including: pre-galvanized, electro zinc plating, pewter powder, black powder, white powder, custom orders and 304 and 316 Stainless Steel.
Additional benefits: non-metallic, flame-retardant covers and tray inserts; PowerShear quick, burr-free cutting tools; splicing kits; supports and more.
WBT and nVent CADDY Working Together
While at this time, WBT and nVent CADDY will be moving forward with business as usual, the long-term goal is to give customers a one-stop-shop for DNS and pathway management product needs. The nVent CADDY wire basket tray product family works in conjunction with the rest of our DNS line-up, including: nVent CADDY Spring Steel, nVent CADDY Universal Tray Support (UTS), nVent CADDY Telescoping Strut Replacement, nVent CADDY Wire Basket Support and more.

Want more information about the nVent CADDY and WBT acquisition? Contact us today.