nVent CADDY's in-wall category of products has been built with hours of research, product development and engineering to create an extensive line including stud mounted, cable and conduit fastening, floor mounted and prefab product solutions. With safe, fast and easy installation methods and product benefits including:
These products help to solve for several common problems contractors can encounter before even setting foot on the jobsite, including meeting building code requirements, meeting challenging timelines, skilled worker shortages and more. Innovative enhancements to in-wall products include tool-free features and snap-to-stud installation – plus quality is key and these products meet several standards including UL and cULus listings.
The innovative stud wall products are designed to make the job easier at the end of the day. nVent CADDY between stud box mounting brackets have several features which work easily and tool-free with snap-on box mounting plate options. The product line offers heavy duty options, telescoping features and first means of support products for installation.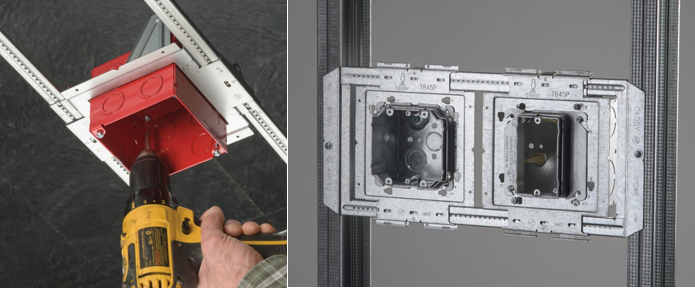 The single box-to-stud product offering includes several similar attributes including the snap-to-stud function allowing for fast and easy installation. These products adapt to the job that needs done, including accommodating all stud depths, working with standard or adjustable single and double gang mud rings and mounting to either side of the stud, with the ability to be mounted side-by-side on the same stud. Unique fold out tabs also eliminate the need to use scrap pieces of floor track to provide rigidity when mounting to the open face of studs.
Rounding out the full in-wall offering is a variety of screw gun brackets and raceway support products. These products include time-saving features including snap-to-stud, self-leveling benefits for consistent and professional installation, easy-to-use locking tabs and many more to make the job go quick. These product solutions work with EMT, MC/AC and flexible conduit and can be used for wood or metal studs.

When asked, electrical contractors mentioned finding a better way to mount, wire and install electrical devices, like switches and outlets, on the job or prior to it. nVent CADDY All-in-One electrical assemblies are designed to meet the many different installation needs and methods of the market today. These electrical assemblies combine the electrical box, support bracket, mud ring, far-side support and ground wire pigtail into a single solution that is ready to use right out of the box.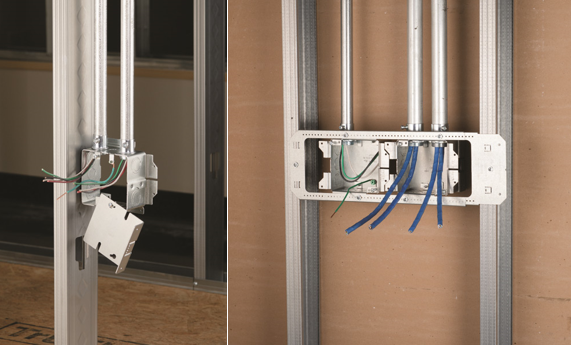 The open-back design provides the contractor with the flexibility to wire from the front or the back of the assembly and when installing conduit connectors or multiple circuits. The nVent CADDY All-in-One system includes stud-mounted, between-stud and floor-mounted solutions. This unique system offers electrical contractors fewer components, better access for wiring, and may be purchased as standard inventory from stocking nVent CADDY distributors.
Our method, developed over a decade by a team of electricians, has proven to significantly reduce scrap and re-work costs. Utilizing the nVent CADDY proprietary open back box, our system is the only option on the market that allows electrical contractors the ability to pre-install devices without the need to drop the mud ring to terminate. Our method has proven to significantly reduce scrap and rework costs, while reducing or eliminating pre-construction costs, excess inventory of components and sourcing related issues of spot buying and partial shipments.
Learn more about the design process and products behind nVent CADDY Prefab Solutions here.
Get more details about the full line of in-wall products, the nVent CADDY team and a full library of resources on the nVent CADDY In-Wall Hub.
See the Hub
Have questions about the products and how to get them? Contact the nVent CADDY team today!