"Electric-powered vehicles are an emerging trend for a variety of reasons, which means there are many great possibilities but also many logistical challenges to address"
How One Company is Helping Make Electric Vehicles More Convenient
Electric cars are becoming a common sight on the roads no matter where you live. Once a rarity, electric cars are today a mainstay in the modern automobile market and with ever-improving technology, are becoming a more viable alternative to traditional gas-powered vehicles.
When it's time to fuel up, we've become accustomed to stopping at our local gas stations, but it hasn't always been that easy for electric vehicle owners– until recently.
A New Solution
To meet the needs of electric vehicles, gas stations across the world are beginning to install Electrical Vehicle Charging Stations (EV Stations) so that both gasoline-fueled and electric vehicle owners can fuel up at the same places they've visited for years.
EV Stations require technology that ensures safe and reliable electricity transfer and highly specialized equipment to avoid power surges, unreliable power transfer and potential injury.
Providing a Helping Hand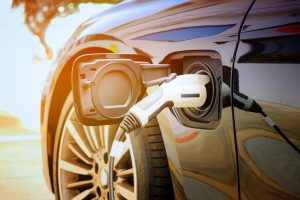 To add EV units to their gas stations, a global oil and gas company needed to find a solution that made recharging electric cars at gas stations a simple and effective task. The process of building a new EV charging station meant they needed an electrical and power solution to meet several technical requirements, including site space constraints and functionality in a gas and petroleum environment. It also needed the solution to be implemented quickly. Together with several other nVent components, the company used nVent ERIFLEX Flexibar in its built-from-scratch unit design.
"Electric-powered vehicles are an emerging trend, which means there are many great possibilities and also many logistical challenges to address," said nVent ERIFLEX Business Developer Robin Vaucelle. "By combining unique, safe, flexible and customized features, our solutions are designed to help EV drivers to safely and reliably recharge without worry.

Flexibar Advanced is a flat conductor that features thin layers of tinned electrolytic copper formed into a stack so it's much smaller and more flexible than cable. The Flexibar Advanced is highly insulated, making it a low-smoke, halogen-free, flame retardant and high temperature resistant (up to 115°C) option. With the ability to bend, fold and twist, Flexibar Advanced also improves assembly flexibility, shortens connections and decreases footprint.
Transmitting electricity also requires reliable power connections. Using nVent ERIFLEX Power Blocks, the oil and gas company was able to implement certified solutions with high short circuit ratings into their EV Stations' infrastructure. The Power Blocks offer voltage detection and measurement connection features and can be used with a variety of conductors, both flat and round. With a unique low-voltage power and grounding design, nVent ERIFLEX Power Blocks are perfect for electricity transfer in a petroleum setting.
In addition to Flexibar and Power Blocks, the customer was able to use nVent insulation products and surge devices.

Keeping Customers Happy, No Matter What They Drive
All nVent ERIFLEX solutions installed at EV Stations use nVent ERIFLEX Advanced Technology, a unique offering that combines low smoke, halogen-free and flame retardant (LSHFFR) feature to improve the safety and reliability of electrical operations.
nVent deployed a full range of solutions to ensure a seamless system for the customer. This allowed the oil and gas company to focus on leading the way in the electric vehicle charging market. Their implementation of the EV Charging Stations means that drivers will be able to get back on the road as they always have, in whatever vehicles they choose, no matter how they are fueled.