Decades ago, nVent CADDY created the famous Telescoping Screw Gun Box Bracket (TSGB) and it has been saving contractors time when installing multiple boxes, pipes and conduit between studs ever since. The product telescopes to the appropriate stud distance, including non-standard spacing. This removes the need for cutting and lets contractors quickly adapt on the jobsite.
In spring of 2020, nVent further expanded its between stud product offering with the Heavy Duty Telescoping Bracket (TB1624HD). The product improves upon the design of the TSGB by incorporating even more features designed to improve the installer experience.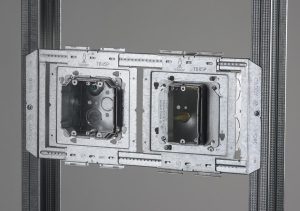 1. Additions or Removals without Removing the Bracket
Innovative design allows boxes to be added or removed without removing the bracket from studs. Mounting plates can also be added or removed with pre-assembled boxes, fittings and MC/AC cables. Also, when installing multiple brackets, one person can install all of the brackets while another person or people install what the bracket will be holding, creating efficiency on the job site.
2. Modular System
The modular system allows you to create a variety of combinations of SKUs and assemblies without keeping extra product on your shelves. Different configurations can be adapted on the jobsite if necessary, and products can be carried over from one project to another.
3. Product Compatibility
The bracket can be used in combination with Box Mounting Plate (TB45P) or Box Mounting Plate with Far Side Support (TB45PK) snap-on mounting plates to attach boxes. Additionally, the TB45PK can be attached directly to the stud, further increasing the flexibility of the product group.
4. Elimination of the Need for a Far-Side Support
The rigid design of the bracket securely holds the box mounting plate in place and eliminates the need for far-side support. This is one fewer step that the installer needs to make in the field.
Conclusion:
The nVent CADDY Heavy Duty Telescoping Bracket and Box Mounting Plate are designed for optimal ease of use. The product was created after listening to the electrical contractor community, designing a solution that makes the job easier.
Made to work with data and electrical applications, choose the telescoping bracket and box mounting products for your next job; and provide your team the flexibility they need – with the confidence that it is installed right the first time.
Learn more about all of the new features designed to make your job faster, safer and easier by downloading the datasheet.