Concrete is the single most widely used construction material in the world. As concrete installations continue to gain popularity, it is important that clips and clamps can attach conduit, tube and required services safely and quickly to concrete ceilings and walls.
nVent CADDY has a long and proud history in the spring steel market aimed at improving installations on steel structures. That dedication to improvement continues with the new line of tool-free for concrete applications.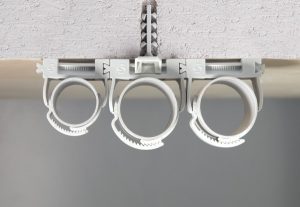 3 Benefits
The new line of nVent CADDY Plastic Clips and Clamps for concrete installations continue to benefit customers around the world by providing them with premium fastening solutions that focus on simplicity, safety and efficiency.
Simplicity. The job is simple when using nVent CADDY; all of the products can be ordered from one source and installed with few steps. The installer simply needs to drill a 6 mm hole and push the fastener into position.
Safety. It is always the goal of nVent CADDY to allow installers to eliminate unnecessary safety hazards. The new nVent CADDY line of Concrete Clips and Clamps install with only the push of a finger, and no extended time on ladders. A simpler installation is a safer installation.
Efficiency. All nVent CADDY Plastic Clips and Clamps install with a 6 mm drill bit and can be securely pushed into place. The system also incorporates fewer parts and less loose hardware. As a result, the installer can install more efficiently when compared to more complicated methods
Internal time studies indicate reduction of installation time by up to 60% due to the new nVent CADDY plug-in technology for Concrete Clips and Clamps.
Watch the video or contact your local representative to learn more about our innovative range of plastic clips and clamps for concrete installations.