As the demand for renewable energy sources continues to rise, utility-scale battery energy storage systems (BESS) have emerged as a crucial component in the quest for sustainable power.
Within these systems, there are three main application areas to focus on:
Battery Module
Power Converter and Inverter Systems (PCS)
Interconnection Methods Between Electrical Subsystems in the Container Housing
This blog will explore how nVent ERIFLEX and nVent ERICO products seamlessly integrate within BESS applications, providing enhanced performance and streamlined installations for BESS original equipment manufacturers (OEMs).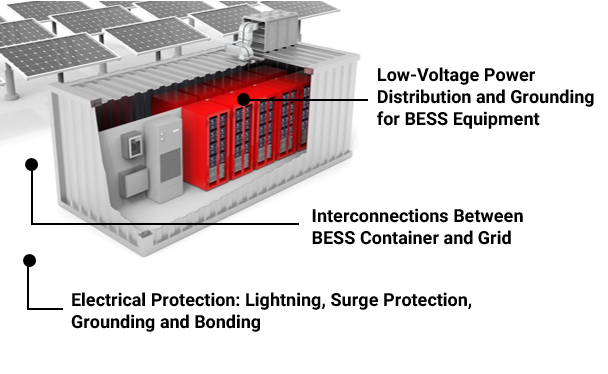 Battery Module: Battery racks serve as the backbone of utility-scale energy storage systems by facilitating the connection of multiple battery modules or cells. nVent ERIFLEX Flexibar and IBSB Advanced solutions revolutionize electrical distribution and grounding of battery racking systems. Designed for simplified installation, these products minimize hot spots by eliminating the traditional lugs found when using cables, ensuring the long-term integrity and performance of the battery modules. With nVent ERIFLEX, OEMs can overcome the challenges posed by standard cables and rigid busbar connections, allowing for safer and more efficient electrical interfaces.
Power Converter and Inverter Systems (PCS): The power converter/inverter systems are responsible for converting direct current (DC) electricity generated by the batteries into alternating current (AC) electricity for use in the electrical grid. nVent ERIFLEX Low Voltage Power Distribution and Grounding solutions offer numerous advantages in this critical application. By leveraging nVent ERIFLEX Flexibar and IBSB Advanced products, OEMs can increase labor savings and reduce the number of parts necessary to make the power connections within the PCS equipment. Additionally, the comprehensive nVent ERIFLEX product offering, ranging from 400 amps to 1600 amps, simplifies power distribution systems by minimizing the need for multiple suppliers and parts.
nVent ERICO Surge Protection products protect against power surges, safeguarding the PCS from potential damage and ensuring the system's overall stability. In addition, by incorporating nVent ERICO Surge Protection solutions, OEMs can enhance the longevity and reliability of their BESS installations.
Interconnection Methods Between Electrical Subsystems in Container Housing: Container housing is a popular solution for installing and transporting battery energy storage systems. nVent ERIFLEX solutions offer high ampacity solutions (up to 4500 A) that address the specific requirements of interconnecting electrical systems within container housings. By utilizing nVent ERIFLEX Flexibar and IBSB Advanced, nVent ERIFLEX Power and Distribution Blocks, and nVent ERIFLEX Ground Braids, OEMs can optimize power distribution systems, reduce the number of suppliers, and increase battery density within fixed container sizes.
Additionally, nVent's flexible, low-profile, and lightweight power conductors enable engineers to design more compact electrical panels, mitigating heat rise risks associated with increased power density. nVent ERICO Surge Protection solutions also provide an additional layer of safety, protecting battery systems and subsystems within container housings from electrical surges and associated risks.
A phase many may not think of is the construction phase. In this phase, nVent ERICO Facility Electrical Protection solutions play a crucial role. nVent ERICO System 3000 Lightning Protection, nVent ERICO Type 1 and Type 2 Surge Protection, and nVent ERICO Hammerlock products offer robust protection against lightning strikes and power surges. By incorporating nVent's comprehensive facility electrical protection solutions, contractors can ensure BESS installations' long-term reliability and safety.
As energy storage becomes increasingly vital in meeting the world's growing energy demands, nVent's range of innovative products offers OEMs the means to enhance the performance, safety, and reliability of utility-scale energy storage systems. From battery racks and power converter/inverter systems to interconnection methods and facility electrical protection, nVent has you covered.
Learn more about the product offering by visiting our website or contacting us today!