In this post, we share key points to keep in mind when considering what type of warranty works best for you.

Warranty is an important aspect to consider when making any significant purchase and floor heating is no exception; however, comparing warranties can be very difficult. Be sure to consider the folllowing:
Lifetime warranty: "Lifetime" sounds great but this type of warranty typically has certain limitations that can result of a very short coverage period. The most prevalent limitation with this type of warranty is to define "Lifetime" as the period of time the original installation is "unchanged". This means that regular maintenance activities such as re-sealing grout, re-grouting, or replacing a cracked tile (or the act of cracking a tile in the first place) can void the warranty. If the floor heat is installed under a floating floor such as laminate or engineered hardwood, refinishing the surface or replacing a stained board could void the warranty.
System warranties: Some manufacturers offer warranties for a "system" of products and not for the individual products themselves. These systems often include several non-heat-related products such as underlayments, mortars, and other substrates. Often these warranties can have very specific installation and testing requirements. It can be easy to void the warranty before the install is even completed if all of the steps, tests, registrations, and submissions are not completed on time (sometimes in as little as 14 days via mail). Another complicated aspect to a system warranty is whether or not it includes anything other than the heating products. For some system warranties, the only way to include other aspects of the installation is to embed it in yet another system contained within the heating system (shower system, waterproofing system, etc.) and this adds layers of complexity to the qualification and claims processes.
Prorated warranties: A prorated warranty is one where the liability equals the original value of the purchase multiplied by the percentage of warranty remaining. In other words, if the value of your purchase was $1000 and the warranty period is 25 years, the manufacturer will only credit you for $500 in value in the event of a warranty claim at the 12½-year mark.
Ways to void certain warranties: Some warranties can be voided by activities that many homeowners would consider maintenance. Ways to void some warranties include "change in flooring" (chipped tile, color fade, re-grouting, etc.), by failing to submit documentation or claims in a timely manner (again, certain manufacturers only allow 14 days – even if physical mail is required for submission), or "repair" to the heating system itself. Most repairs to electric floor heating systems actually occur during installation; for example, the installer could nick a wire with a notched trowel, requiring the use of a repair kit. In this case, the warranty could be voided before powering up the system for the first time. If the installer doesn't inform the homeowner of the repair, they may not be aware they no longer have a valid warranty until they attempt to get warranty service at some point in the future.
Warranty start date: Some warranties start on the date of installation, others on the date of purchase, and some even start of the date of manufacture. It's important to know which of these applies to you and if it's the date of manufacture, do you know what that date is? Building products can sometimes sit in a distributor's warehouse for a long time before they're finally sold and installed.
Thermostats: Floor heating thermostats sold in North America have warranties that range from 1 to 3 years. This may sound like a short time but a floor heating thermostat is exposed to stress that a typical low voltage climate control thermostat is not exposed to. This is because floor heating thermostats switch line voltage (120 or 240 volts) as opposed to the single digit voltages handled by a battery-powered climate control thermostat.
The good news is that nVent NUHEAT warranties are very simple and comprehensive:
nVent NUHEAT heating products (Standard Mat, Custom Mat, Cable, Membrane, and Mesh) are covered by a 25-Year Product Warranty. The nVent NUHEAT product warranty is not prorated, it is not voided by correctly executed repairs, and it starts from the date of installation.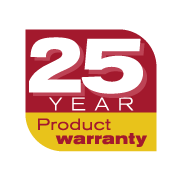 If nVent NUHEAT products are installed by a nVent NUHEAT Certified PRO, they qualify for the 25-Year Total Care Warranty

includes everything covered under the 25-Year Product Warranty and…

Floor heating repair or installation
Floor covering installation (labor)
Floor covering products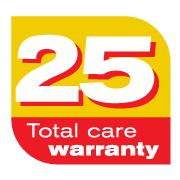 nVent NUHEAT thermostats are covered by a 3-year warranty – the longest in North America.
To qualify for nVent NUHEAT Warranties…

Complete the online warranty registration form within 30 days of installation.
Keep a copy of test reports, relevant invoices, installation photographs and sketches for each installation. This documentation helps nVent NUHEAT resolve your claim effectively, if ever required in the future.
Make sure your nVent NUHEAT products are purchased through an authorized reseller (whether bought by a contractor or the homeowner). Check the Where to Buy section of our website to ensure you are dealing with a reputable reseller that is providing genuine, unused nVent NUHEAT products.
To learn more about nVent NUHEAT Warranties, visit http://www.nuheat.com/warranty/overview.